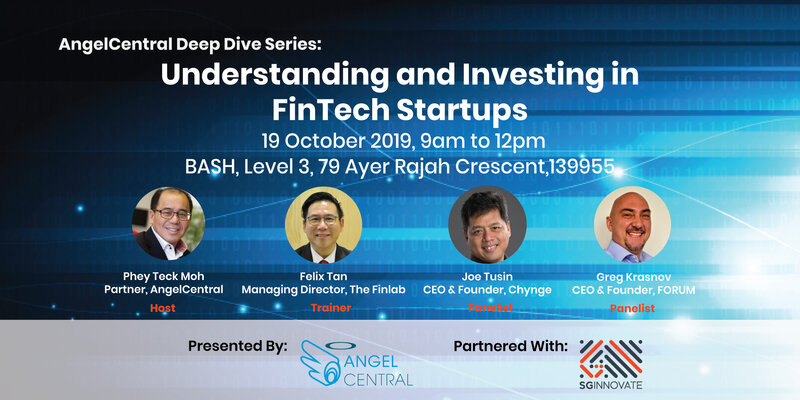 AngelCentral Deep Dive Series: Understanding and Investing in FinTech Startups
19th October 2019, 9:00 AM - 12:00 PM
BASH, 79 Ayer Rajah Crescent, Level 3, 139955
Curious about the FinTech space and keen to understand and find out how to invest in startups in the FinTech space?
Hear from Mr Felix Tan, Managing Director of The Finlab, a business accelerator that focuses on propelling the growth of innovative FinTech and technology companies as well as traditional SMEs looking for business transformation to stay relevant.
Felix and his team have successfully run 4 acceleration cycles (the last 2 of which were focused on SMEs in Singapore and Thailand) and now has 13 fintech/technology portfolio companies across 6 countries selected from more than 1,000 applications across 50 countries.
Over the first 2 cycles, Felix provided mentorship and guidance to the FinTech startups in their sharpening of business models, strategic planning, and go-to-market strategies, with 11 of these portfolio companies successfully completing their fund-raises (ranging from Seed to Series B) for their next stage of growth, and 6 have been recognised at Singapore FinTech Festival in 2016 and 2017.
Given this, and coupled with his earlier days as a dot-com entrepreneur and later investor and mentor, he has a detailed understanding of how best to select and invest in these companies and the key metrics to look out for.
This workshop will provide angel investors with the framework and evaluation methodology to understand, evaluate and invest in early-stage FinTech startups. You will bring home a deeper understanding of:
- What is the FinTech space all about
- The journey of a typical FinTech company
- Funding and assistance required during growth
- What to look out for before investing in a FinTech startup
The workshop will also include case study discussions and how to go about valuing companies in this space. It will conclude by a panel discussion with experienced practitioners to give you deeper insights into this space.
Stay tuned for the panelist!
Register