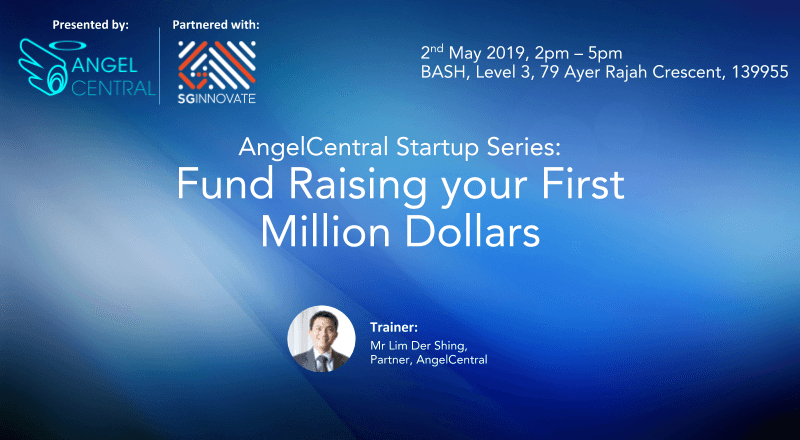 AngelCentral Startup Series: Fund Raising Your First Million Dollars
2nd May 2019, 2:00 PM - 5:00 PM
BASH, #03-01, 79 Ayer Rajah Crescent, Singapore 139955
Note: Early Bird tickets are priced $50 off General Admission prices (limited slots available). 
Our special bundle includes tickets for this workshop and "Legal Masterclass for Founders", happening on 3rd May, 2pm-5pm. More details can be found in the link here. 
Discover all you need to know about fundraising as an early stage founder. 
One of the biggest challenges that many founders face is fundraising. Most founders are excellent at growing their business and getting customers, but less proficient at the fund raising game. As such, many founders mismanage the process and end up not doing justice to their business. Some end up raising insufficient funds, accepting unfair and/or unfavourable terms, or diluting themselves too much with investors that they don't even like. Needless to say, making fund raising mistakes has drastic implications on the health of the business and also affects the final reward that awaits successful founders. 
The good news is that many of these issues can be overcome through proper education, planning and execution. 
Our trainer, Der Shing, has been an active angel investor in technology startups since 2012 and has been helping many startups with experience sharing and networks to help them grow to their full potential. Currently, he is also a Partner with AngelCentral, Venture Partner with Jungle Ventures / Seedplus, and a Director with Entrepreneur First. Between Shao Ning and himself, they have invested directly in >20 startups and indirectly in hundreds more via 7 VCs. 
For the first time in Singapore, he will be sharing with founders how they can do a better job with fund raising via a 3-hour content packed workshop. 
Via this workshop, you will be able to get into the mind of both VCs and angel investors. You will understand their portfolio thinking, financial mathematics, evaluation criteria and mindset. This helps you position yourself best for a successful fundraising round. On top of this, we will also cover the actual fundraising process, due diligence and managing your investors post-investment. Note this workshop does not cover legal issues as that is covered in our complementary workshop below. 
Topics covered:
1) ASEAN ecosystem 
2) Financing for startups - Why raise?
3) Difference & the Math for Angels and VCs
4) How investors Evaluate - Amended Harvard Methodology
5) Fund Raising Process & due diligence 
6) Post Investment roles and expectations
----------
About the Trainer:
Der Shing is an active Regional Angel Investor with direct investments worth >$5M in over 25 startups and 7 VCs. At the same time, Der Shing serves as a Venture Partner at Jungle Ventures and Partner at AngelCentral. Previously, Der Shing cofounded JobsCentral Group and grew both the profit and revenue over a 14-year period. He built JobsCentral from a 2-man startup into a leading regional job portal with over 150 staff in 3 countries. In 2011, the business was sold to CareerBuilder.
His experience covers all the topics required to start, build, scale and invest in a consumer internet business in South East Asia. He shares some of his insights at his blog. Since 2017, Der Shing has trained >200 angels around the region which has received numerous positive reviews.
Register