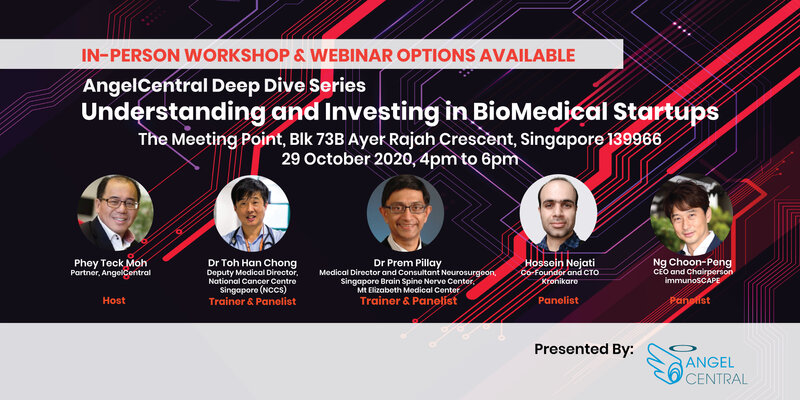 AngelCentral Deep Dive Series Webinar: Understanding and Investing in BioMedical Startups
29th October 2020, 4:00 PM - 6:00 PM
This session will be a physical & Zoom webinar session! We will only proceed with the physical session when we hit a minimum request of 8 by 21st October.
Medical healthcare has undergone an outstanding technological transformation over the past decade. This is even so especially during the COVID period where there are multiple breakthroughs by medical startups and such changes have essentially modified every aspect of the healthcare industry. According to various research, technology has already been postulated to be as capable as doctors as diagnosing diseases. Processes and procedures which were once impossible have become probable, restructuring everything from patient diagnosis' to treatments.
During this workshop on Biomedical Startups, angel investors would be provided with the framework and evaluation methodology to understand, evaluate, and invest in early-stage medical startups. Angels are expected to bring home a deeper understanding of the following:
A general but informative overview of the Biomedical space

The journey of a typical Biomedical company

Discover what types of funding and assistance are required during their growth stage

Factors to be mindful of before investing in a Biomedical startup
This specially curated AngelCentral deep-dive workshop will include the sharing of exclusive case studies for angels to discuss on and how one should go about valuing companies in the Biomedical space. The session will then conclude with a panel discussion by experienced practitioners who will give angels a deeper insight into this space.
Trainer & Panelist: Dr. Toh Han Chong, Deputy Medical Director, National Cancer Centre Singapore (NCCS), Founding Chief Medical Officer, Tessa Therapeutics Ltd
Dr. Toh Han Chong is Deputy Medical Director, National Cancer Centre Singapore (NCCS), Associate Professor at the Cancer & Stem Cell Biology Program and SingHealth-Duke Global Health Institute, Duke-NUS, and adjunct PI at the Singapore Immunology Network.
Dr. Toh received the National Outstanding Clinician Scientist Award 2018 for developing and building a cancer immunotherapy programme in Singapore. He is the founding Chief Medical Officer of Tessa Therapeutics Ltd. Tessa Therapeutics Ltd is a clinical stage cancer immunotherapy biotech which harnesses engineered immune cells as treatments for cancer. This Singapore-grown company was founded on the back of a National Cancer Centre Singapore Phase II clinical trial which showed encouraging results for the addition of T cell immunotherapy against advanced nasopharyngeal cancer. Dr Toh was its founding Chief Medical Officer and began with the company ground up since its inception. Tessa Therapeutics conducted the world's first and largest phase III clinical trial of T cell therapy in any cancer type – a global feat of both rollercoaster highs and lows and still successfully completed with a strong clinical product manufacturing and a solid reliable supply chain established. The journey of a Singapore biotech in a nascent ecosystem through the early seed funding rounds, manpower growth, technology development, IP creation, infrastructure build up and forging partnerships locally and globally has real challenges and yet leverages on existing advantages and strengths unique to Singapore.
Dr. Toh is a council member of the Asia-Pacific Primary Liver Cancer Expert (APPLE) Association, the World Immunotherapy Council and has been on the Cancer Immunotherapy faculty of the European Society of Medical Oncology. He leads a National Large Collaborative Grant on virus-driven cancers prevalent in Asia. He has published over 110 peer review papers.
Trainer & Panelist: Dr. Prem Pillay, Medical Director and Consultant Neurosurgeon, Singapore Brain Spine Nerve Center, Mt Elizabeth Medical Center
Dr. Prem Pillay is the Medical Director and Consultant Neurosurgeon of Singapore Brain Spine Nerve Center, Mt Elizabeth Medical Center. He specialises in Back Pain, Neck Pain, and Brain Tumor/Stroke, Minimally Invasive solutions/ Robotics/ Mixed Reality and VR for brain and Spine Procedures/ Surgery, AI in Medicine and Surgery.
In his investing journey, he is the Healthcare advisor and limited partner at Jungle Ventures and HealthXCapital HQed out of Singapore. He is also the Limited partner and advisor AngelsMD and BioPacific which are both HQed n the USA.
Apart from that, he was also an intrapreneur with SGH where he led the startup, the Gamma Knife Center (the region's first functional MRI), and raised $10 million. It was then invested by Singapore Technologies and was subsequently acquired by a private group after years of successful treatments.
Panelist: Hossein Nejati, Co-founder and CTO, KroniKare
Hossein Nejati, co-founder and CTO of KroniKare has a Ph.D. in machine learning and image processing from NUS and has been a postdoctoral fellow at Singapore University of Technology and Design, and MIT, Department of Brain and Cognitive Sciences. During the past 10 years, Hossein has been working alongside nurses and medical practitioners in Singapore and the US, publishing 30 papers in the field and participated in developing core machine learning and data analysis modules in teams of a different mix.
Panelist: Ng Choon-Peng, CEO & Chairperson, immunoSCAPE
Choon co-founded immunoSCAPE in 2016 and serves as CEO and Chairperson. Previously, Choon was the Senior Director of the PharmBio cluster in A*STAR (Agency for Science, Technology and Research) responsible for formulating Singapore's Biomedical Research strategy. Prior to this, he was CEO Asia for LEO Pharma, a global pharmaceutical company headquartered in Denmark. He doubled the business of LEO in 15 Asian countries by breaking new ground in key countries and pushing for professionalism in key functional areas. Choon started his career in the biopharmaceutical industry at GSK, USA; and later at Scios Inc (Fremont, CA), a subsidiary of Johnson and Johnson J&J. He rose through the ranks in J&J to become Country Manager of Janssen-Cilag Singapore, another J&J subsidiary. Choon's first career was with the Singapore Armed Forces as a combat officer and he holds the rank of Lieutenant Colonel (Retired).
Choon holds an MBA from the University of Michigan's Ross Business School and completed Executive Education at IMD in Lausanne, Switzerland. He graduated with a BSc (Economics) from the London School of Economics under a scholarship from the Singapore Armed Forces.
Moderator: Phey Teck Moh, Partner, AngelCentral
Phey Teck Moh is a mentor and angel investor in the Singapore entrepreneur ecosystem. He co-founded AngelCentral, to build a community of angel investors; offering education workshops and curate startups for angel investments. At Entrepreneur First, Teck Moh is a mentor to extraordinary people to build amazing startups from scratch. Xpanasia is an advisory company specializing in Telecommunications and Information Technology companies in Asia Pacific.
He had retired as Asia President, Motorola Solutions in May 2013. During his tenure, Motorola Solutions Asia Pacific grew to more than US$1B. Prior to Motorola, Phey was the President & Chief Executive Officer of Pacific Internet, a NASDAQ- listed Internet service provider in Asia Pacific. He started his career at IBM and moved to Compaq.
Register