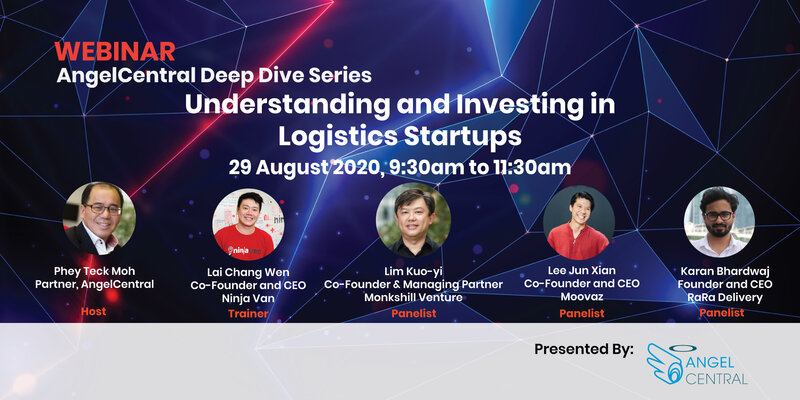 AngelCentral Deep Dive Series Webinar: Understanding and Investing in Logistics Startups
Logistics companies connect firms to markets by providing various services, including multimodal transportation, freight forwarding, warehousing, and inventory management Understanding the different models in logistics, the disruption in the space and the new models arisen from the disruptions will be useful for angel investors.
During the workshop, Lai Chang Wen, Co-Founder & CEO of Ninja Van, guided our angels to gain a deeper understanding of the Logistics space, the journey a typical Logistics company takes, what a Logistics startup requires and factors angels should take note of before investing in a Logistics company. The later part of the workshop consisted of a panel discussion by an experienced VC of successful logistics startups and founders of strong logistics startups who gave our angels further insight into the Logistics space.
Panelists included:
Lai Chang Wen, Co-Founder & CEO, Ninja Van

Lim Kuo-Yi, Co-Founder & Managing Partner, Monkshill Ventures

Lee Jun Xian, Co-Founder & CEO, Moovaz

Karan Bhardwaj, Founder & CEO, RaRa Delivery
About Lai Chang Wen, Co-Founder & CEO, Ninja Van
Chang Wen is CEO and Co-Founder of Ninja Van - Southeast Asia's leading technology-enabled logistics company. The company was started in 2014 by him and his two other Co-Founders Boxian and Shaun when they realised the market potential of catering to the logistics needs of the e-commerce industry.
With a focus on taking the hassle out of the parcel for customers, Chang Wen and his team are dedicated to ensuring that logistics is a simple and seamless affair for our business partners and consumers.
Specialising in e-commerce deliveries, Ninja Van believes in powering businesses with innovative logistics solutions. The company believes in offering a consistent hassle-free delivery experience for merchants across Southeast Asia and providing clients with a singular access point into the region.
With plans to continue expanding and serving in the current markets the company operates in, Chang Wen's vision is for Ninja Van to open Southeast Asia to a world of possibilities, one delightful delivery at a time.
About Lim Kuo-Yi, Co-Founder & Managing Partner, Monkshill Ventures
Kuo-Yi is the Co-founder and Managing Partner at Monk's Hill Ventures, a leading early-stage venture capital firm in Southeast Asia. He is based in Singapore and is a board member of Ninja Van, Padlet, KKday, Jio Health, Horangi, Saleswhale, Finaxar and Zipmatch.
In the early 2000's, Kuo-Yi was an early employee of Encentuate, an identity and access management software startup (acquired by IBM) and Reputation Technologies, a supplier relationship management software startup (acquired by Security Sources). In 2008, he co-Founded SportsHook, a social networking and event management SaaS startup for the sports community.
Prior to Monk's Hill Ventures, Kuo-Yi was CEO of Infocomm Investments, a $200M venture fund based in Singapore investing in technology startups globally. At Infocomm Investments, Kuo-Yi led investments in Twilio (NYSE:TWLO), Dataxu, Quid, Gengo and other leading startups.
Kuo-Yi serves as a board member on several Singapore government statutory boards, including the Infocomm Media Development Authority (IMDA), Health Promotion Board (HPB), and the Intellectual Property Office (IPOS). He is also a member of the Future Economy Council in Singapore.
About Lee Jun Xian, Co-Founder & CEO, Moovaz
Junxian is the Co-founder and CEO of Moovaz, a machine intelligence-driven technology for international relocation globally. He is also the Co-founder and ex-CFO of CashShield, an international online fraud risk management company with operations in the U.S.A, Europe, China, and Southeast Asia and backed by Temasek Holdings. Junxian also co-founded a private investment platform, Fundnel, has prior experience in venture capital investments at SEA Group and operational/product experience as the founding and launcher team of Shopee, kick-starting the business across 7 countries in the region. Junxian co-owns Reedz Café Pte Ltd, a chain of cafes, and continues to serve on the Board of Directors of the NUS Business School's alumni association. He was recognized and conferred the Eminent Alumni Award by the university in 2018 and contributes actively to the Fudan University Singapore Alumni Club and the Harvard Alumni Club in Singapore. He is passionate about philanthropy and education and has spoken actively on Ted Talks on the importance of conducting our daily business from the heart.
The event has passed. Find more upcoming event here or subscribe to our mailing list to receive the updates about the future events.
If you are an investor and would like to find out more about Angel Investing and what AngelCentral does, we have a coffee session hosted by the AngelCentral team. These informal chat sessions are held twice monthly where we will share about what we do, our membership offers, and/or what Angel Investing is all about. Secure your slots here.
If you are a startup and would like to raise funds from our members, send in your application here!