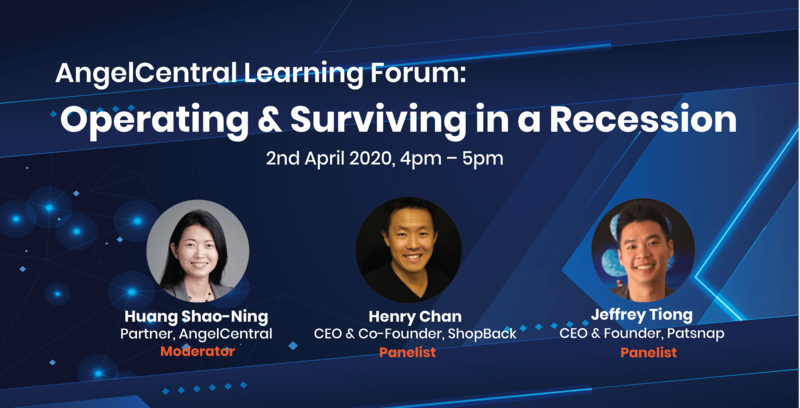 AngelCentral Learning Forum: Operating & Surviving in a Recession
Covid-19 practically threw most companies' 2020 workplans out of the window, including that of AngelCentral! In our catch up sessions with our own investee companies, my first question to the founders was: What have you done to ensure your operation can last beyond this crisis? The most worrying thing to us was hearing a cavalier attitude or a head in the sand mindset. We then also realised that many founders had never experienced a real bear market or recession before!
This forum helped to answer the above question and problem that founders face. Jeffrey from Patsnap and Henry from Shopback both shared their thoughts and experiences with the forum to help current and future founders learn how to not only survive in a crisis, but thrive in it and come out on top!
The event has passed. Find more upcoming event here or subscribe to our mailing list to receive the updates about the future events.
If you are an investor and would like to find out more about Angel Investing and what AngelCentral does, we have a coffee session hosted by the AngelCentral team. These informal chat sessions are held twice monthly where we will share about what we do, our membership offers, and/or what Angel Investing is all about. Secure your slots here.
If you are a startup and would like to raise funds from our members, send in your application here!