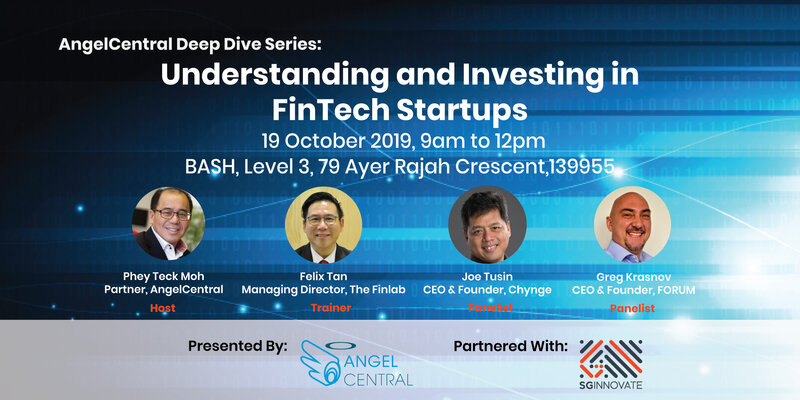 AngelCentral Deep Dive Series: Understanding and Investing in FinTech Startups
At the workshop, Mr Felix Tan, Managing Director of The Finlab, shared his experiences on how best to select and invest in FinTech companies. Our angels learnt more about the nuances of the FinTech space, the journey a FinTech company takes, what these startups need to grow and the key metrics angels should look out for before investing.
The workshop then finishes with case study discussions and a panel discussion with experienced practitioners which gave our angels deeper insights into the FinTech space.
Panelists include:
Felix Tan, Managing Director, The Finlab

Joe Tusin, CEO & Founder, Chynge

Greg Krasnov, CEO & Founder, FORUM
About Felix Tan, Managing Director, The Finlab
Mr Felix Tan is the Managing Director of The Finlab, a business accelerator that focuses on propelling the growth of innovative FinTech and technology companies as well as traditional SMEs looking for business transformation to stay relevant.
Felix and his team have successfully run 4 acceleration cycles (the last 2 of which were focused on SMEs in Singapore and Thailand) and now has 13 fintech/technology portfolio companies across 6 countries selected from more than 1,000 applications across 50 countries.
Over the first 2 cycles, Felix provided mentorship and guidance to the FinTech startups in their sharpening of business models, strategic planning, and go-to-market strategies, with 11 of these portfolio companies successfully completing their fund-raises (ranging from Seed to Series B) for their next stage of growth, and 6 have been recognised at Singapore FinTech Festival in 2016 and 2017.
Given this, and coupled with his earlier days as a dot-com entrepreneur and later investor and mentor, he has a detailed understanding of how best to select and invest in these companies and the key metrics to look out for.
The event has passed. Find more upcoming event here or subscribe to our mailing list to receive the updates about the future events.
If you are an investor and would like to find out more about Angel Investing and what AngelCentral does, we have a coffee session hosted by the AngelCentral team. These informal chat sessions are held twice monthly where we will share about what we do, our membership offers, and/or what Angel Investing is all about. Secure your slots here.
If you are a startup and would like to raise funds from our members, send in your application here!