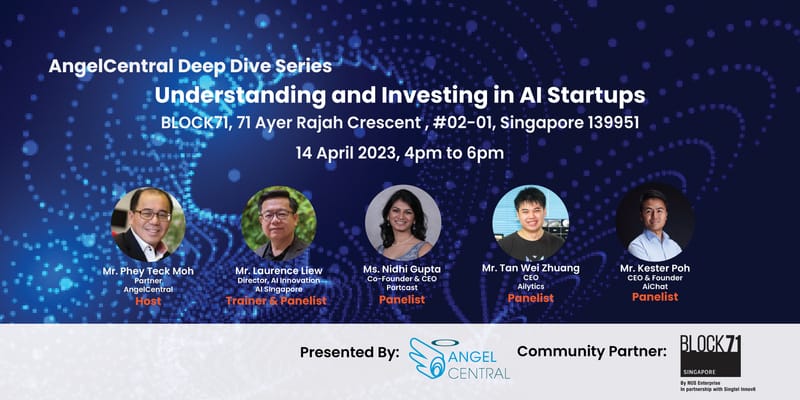 AngelCentral Deep Dive Series: Understanding and Investing in AI Startups
Artificial Intelligence (AI) has been developing for several decades, with significant advances made in recent years due to big data availability and breakthroughs in AI techniques such as machine learning, deep learning, and recently, generative AI.
AI has been used by startups to improve the operations and competitiveness of their customers. Several examples are:
Natural Language Processing (NLP): used by startups to develop chatbots and virtual assistance like AiChat
Robotics used by startups such as Botsync to automate manual processes and improve productivity
Predictive analytics is the basis of Portcast's AI algorithms to predict cargo arrival times, factoring weather conditions, vessel speed, port congestion.
The global AI market revenue had been projected to be 126 billion U.S. dollars by 2025. The world has been experiencing rapid growth in technological innovation and digital transformation. No doubt, as the key driver of this growth, AI will have an impact on everyone's future. A very prominent example is ChatGPT. This viral AI chatbot was developed by a San Francisco-based startup OpenAI, receiving the fastest record to reach 100 million users within two months of launching.
The possibilities are limitless. How can investors make a difference in our future through their foresight in the market?
During this workshop, Mr. Laurence Liew, Director of AI Innovation and AI Singapore, shared and discussed about many exclusive case studies to help our angel investors learn about the many facets of the AI space, the growth process of a typical AI-focused company, the kind of assistance an AI-focused startup requires and what key factors our angels should look out for before investing. The workshop concluded with a panel discussion led by experienced practitioners who gave our angels a deeper insight into the AI space.
Panelists included:
Mr. Laurence Liew, Director, AI Innovation, AI Singapore
Ms. Nidhi Gupta, Co-Founder & CEO, Portcast
Mr. Tan Wei Zhuang Lenard, CEO, Ailytics
Mr. Kester Poh, Founder & CEO, AiChat

About Mr. Laurence Liew, Director, AI Innovation, AI Singapore
Laurence Liew is the Director for AI Innovation at AI Singapore. He is driving the adoption of AI by the Singapore ecosystem through the 100 Experiments, AI Apprenticeship Programmes and the Generational AI Talent Development initiative.
A visionary and serial technopreneur, Laurence:
was appointed the first RED HAT partner and authorised training centre in the Asia Pacific in 1999
built A-STAR's IHPC first High-Performance Computing (HPC) cluster in 2001 (initial HPC clusters in NUS, NTU, and SMU were mostly built by Laurence and his team)
built and operated Singapore's first Grid (pre-cloud) platform for IDA's National Grid Pilot Platform in 2003
architected the Cloud business and technology for then Singapore Computer Systems' Alatum Cloud (now owned by Singtel/NCS) in 2007
led Platform Computing Inc business in South Asia and R&D team in Singapore; IBM acquired Platform Computing in 2009
led Revolution Analytics Inc business in Asia and R&D team in Singapore. Microsoft acquired Revolution Analytics in 2015
joined AI Singapore in June 2017 as the first employee
The Singapore government has appointed Laurence to represent Singapore at the Global Partnership in AI (GPAI), an OECD initiative. He is the current Co-Chair of the Innovations and Commercialisation working group and Co-Chair of the "Broad Adoption of AI by SME" committee. Laurence graduated from the National University of Singapore (NUS) with a First Class Honours in Engineering and a Master in Knowledge Engineering.
About Ms. Nidhi Gupta, Co-Founder & CEO, Portcast
Nidhi Gupta is CEO and Co-Founder of Portcast, a Singapore-based logistics tech start-up that aims to make global supply chains dynamic and efficient using cutting-edge technology such as artificial intelligence (AI) and geospatial data. Portcast is committed to building the next generation of logistics operating systems in order to make highly accurate predictions on how cargo moves across the world.
As an experienced strategy and logistics professional, Nidhi has over a decade of leadership and C-level consulting experience in Asia Pacific with the Deutsche Post DHL group. In her most recent role as Senior Director of Engineering & Manufacturing Sector she was responsible for developing the growth strategy of the sector and leading transformational supply chain strategies for customers across Asia Pacific.
Bringing with her a wealth of experience, Nidhi is passionate about digitisation and innovation in the supply chain and logistics industry. In 2017, she was Entrepreneur in Residence at Entrepreneur First – the world's leading talent investor – in Singapore where she met her business partner and co-Founder, Dr Lingxiao Xia. Realising they had a mutual appreciation of global logistics, they started Portcast in 2018.
A mother of one, in her spare time Nidhi enjoys experimenting in cooking and painting. Having recently been introduced to energy and visualisation techniques, she uses meditation and other practices to help navigate her – both personally and professionally.
She holds an MBA from the Indian Institute of Management Bangalore and a Bachelor's Degree in Computer Science Engineering from Punjab Engineering College.
About Mr. Tan Wei Zhuang Lenard, CEO, Ailytics
Wei Zhuang (Lenard) Tan has 8 years of experience developing and deploying large-scale enterprise software solutions as well as technical pre-sales and consulting. Prior to starting Ailytics, Lenard was with Boeing's Digital Analytics division, leading global teams of more than 100 people and building solutions that automatically optimize flight routes and rosters for airlines. Lenard is currently the CEO of Ailytics, which provides scenario based AI solutions that leverages on state-of-the-art deep learning algorithms to that helps companies in industrial sectors enhance their operational safety, productivity, and security through visual insights from any camera.
About Mr. Kester Poh, Founder & CEO, AiChat
Kester is the Founder & CEO of AiChat, a multi-award-winning AI-powered Conversational Customer Experience (CX) company. Kester Poh is an innovative industry leader with a proven track record of developing creative solutions for businesses in the Internet age. Inspired by the success of platforms like WeChat, Kester and his team launched their venture in 2015 as a conversational commerce company providing digital concierge services via popular messaging apps. Under Kester's guidance, they pivoted the business and officially founded AiChat in July 2016. Now with over 40+ employees across Singapore, Malaysia and Indonesia, empowering leading brands and generating over a million dollars in sales revenue with 191% YoY growth in 2022. Trusted brands who have adopted AiChat's solutions include Bayer, CooperVision, TESCO, FWD Insurance, Marina Bay Sands, and Unilever.
Kester graduated from the National University of Singapore with a major in Computing, Communications and Media. He has also worked for one of the world's largest marketing and advertising networks, the WPP Group, which leads digital transformation projects for Fortune 500 brands. Kester draws on his years of business acumen and his passion for innovation to lead his company into the future. His background in high-tech start-ups such as 3D Gesture-Interaction and Metaverse gives him a unique perspective on the challenges facing online businesses, and he's a firm believer in the value of empowering customers.
The event has passed. Find more upcoming event here or subscribe to our mailing list to receive the updates about the future events.
If you are an investor and would like to find out more about Angel Investing and what AngelCentral does, we have a coffee session hosted by the AngelCentral team. These informal chat sessions are held twice monthly where we will share about what we do, our membership offers, and/or what Angel Investing is all about. Secure your slots here.
If you are a startup and would like to raise funds from our members, send in your application here!