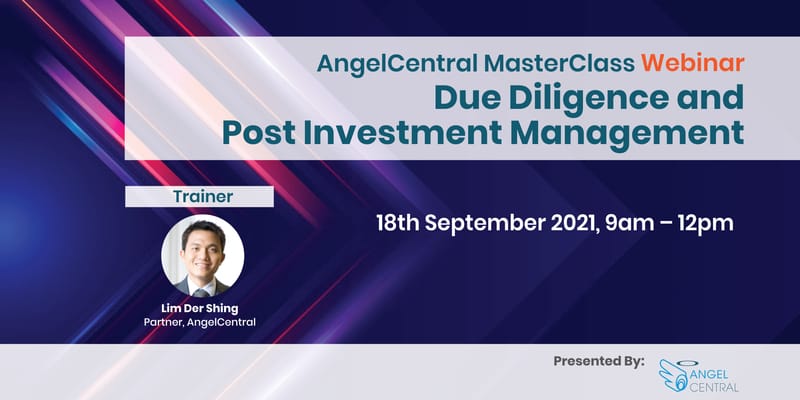 AngelCentral Masterclass Series Webinar: Due Diligence and Post Investment Management
Even after understanding the fundamentals of angel investing and knowing how to evaluate a startup, there are 2 things many angels overlook which are in fact, essential for their long term success. They are the topics of how to go about conducting due diligence, and post-investment management. During this online workshop, Lim Der Shing, Partner of AngelCentral, shared with our angels how they should go about approaching the above mentioned topics.
Content covered:
The importance of due diligence and why we should always do it even with an experienced VC/angel leading the round

The most common (but important) areas of due diligence you need to take note of

What exactly to look out for when conducting due diligence, including sourcing for potential red flags, areas of concern, etc.

The entire walkthrough of the process of how a competent founder would close his/her fundraising round

What's next for angels who have invested in a startup

The crucial mindset you need to have after your angel investment, that can help increase the chances of success for yourself and the founder(s)

When does it make sense for you to become a board member of a startup

Portfolio management strategies that the trainers use personally to track their angel investments
About Lim Der Shing, Partner, AngelCentral
Der Shing is an experienced Angel Investor and has invested (with Shao Ning) over S$5m into 35 startups and 7 VC funds. He also serves on multiple startup boards and volunteers with the Singapore government on the topic of education and startups in various capacities. As the Former CEO and cofounder of JobsCentral Group, Der Shing led the company's growth from a 2-man startup into a highly profitable regional job portal with over 150 staff in 3 countries. In 2011, the business was sold to CareerBuilder.
His experience covers all the topics required to start, build, scale, and invest in a consumer internet business in South East Asia. He shares some of his insights on his blog. Since 2017, Der Shing has trained >140 angels around the region which has received numerous positive reviews.
The event has passed. Find more upcoming event here or subscribe to our mailing list to receive the updates about the future events.
If you are an investor and would like to find out more about Angel Investing and what AngelCentral does, we have a coffee session hosted by the AngelCentral team. These informal chat sessions are held twice monthly where we will share about what we do, our membership offers, and/or what Angel Investing is all about. Secure your slots here.
If you are a startup and would like to raise funds from our members, send in your application here!