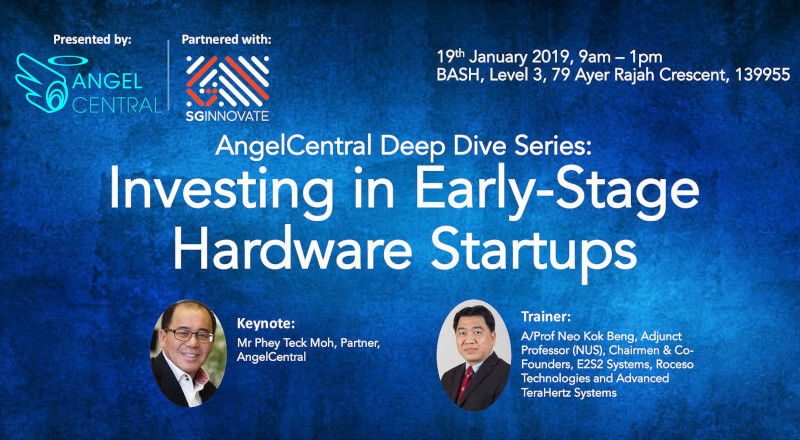 AngelCentral Deep Dive Series: Investing in Early-Stage Hardware Startups
At the workshop, A/Prof. NEO Kok Beng shared many case studies to aid angels to understand and learn the many facets of operations - technology development, costing and productions, certifications and regulatory concerns - when evaluating early-stage hardware startups for investment considerations. The 2nd part of the workshop consisted of founders from different hardware niches, sharing their businesses, growth and learnings with our members.
Panel Speakers:
Willy Koh (CEO, Racer): Contract Manufacturer
Veera Samninathan (CEO, Sustainable Living Labs): Prototyping House
Dustin Jefferson (CEO, uHoo) : Hardware Startup in AIr Monitoring)
Jane Wang (CEO, RocesoTech , Hardware Startup in Soft Robotics
About A/Prof NEO Kok Beng
A/Prof NEO Kok Beng is an award-winning educator, innovator and entrepreneur. Besides teaching design thinking, technology commercialisation and innovation in the National University of Singapore, he is also faculty of various innovation programmes in Harvard, Stanford and Tsinghua universities. Kok Beng received President's Design Award, US Department o VA's Innovation Initiative Award, and NUS Innovation and Enterprise Award. His portfolio of companies founded include wearable dialysis machines, information security, soft robotics, homeland security, food waste management and satellite design.
The event has passed. Find more upcoming event here or subscribe to our mailing list to receive the updates about the future events.
If you are an investor and would like to find out more about Angel Investing and what AngelCentral does, we have a coffee session hosted by the AngelCentral team. These informal chat sessions are held twice monthly where we will share about what we do, our membership offers, and/or what Angel Investing is all about. Secure your slots here.
If you are a startup and would like to raise funds from our members, send in your application here!