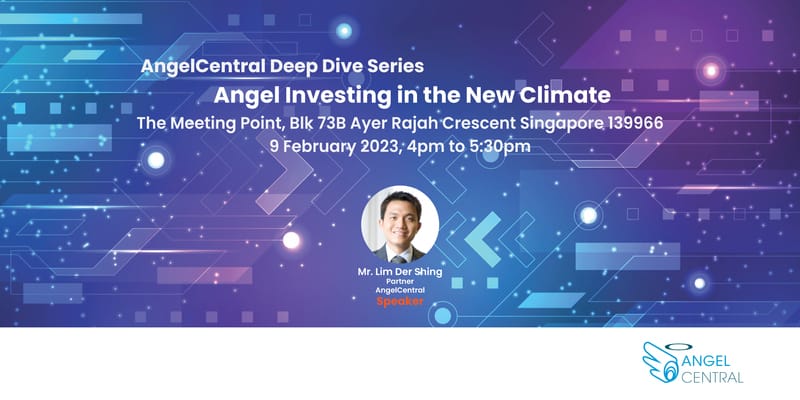 AngelCentral Deep Dive Series: Angel Investing in the New Climate
2022 had seen a lethal combination of unprecedented high inflation and destabilizing geopolitical major events. These had resulted in a volatile and negative return market for both global stocks and bonds. Especially for growth stocks where the benchmark QQQ ETF and the even more speculative ARKK ETF have fallen 30+% and 70+% from highs. Against this backdrop, what's going to happen to startups angel and Venture capital investing in our region?
Indeed, according to Bloomberg, Venture capital investments are said to be on track for the sharpest drop in more than two decades this year. However, the opposite seems to be the case for angel investment. According to CB Insights, angel investors invested in 4,679 deals (>$36.2B) in 2022 which is 5% higher than 2021 where the angel investors invested in 4,422 deals.
Moving forward to 2023, how should angel investing be like in a high-interest rate, high inflation, and possibly recessionary environment? What do fellow angels and investors think and how have portfolios been affected and tweaked moving forward?
At the workshop, Mr. Lim Der Shing, Partner of AngelCentral, shared on his experiences and insights about angel investing with our angel investors to allow them to better fathom the many facets of angel investing. Angel investors learnt more on how he and Shao-Ning, Partner of AngelCentral, view angel investing and how they have updated their views in this new climate.
About Mr. Lim Der Shing, Partner, AngelCentral
Der Shing is an experienced Angel Investor and has invested (with Shao Ning) over USD$5m into 45 startups and 8 VC funds. He also serves on multiple startup boards and volunteers with the Singapore government on the topic of education and startups in various capacities. As the Former CEO and co-founder of JobsCentral Group, Der Shing led the company's growth from a 2-man startup into a highly profitable regional job portal with over 150 staff in 3 countries. In 2011, the business was sold to CareerBuilder. He shares his investment thoughts and reflections on his personal blog http://limdershing.com
The event has passed. Find more upcoming event here or subscribe to our mailing list to receive the updates about the future events.
If you are an investor and would like to find out more about Angel Investing and what AngelCentral does, we have a coffee session hosted by the AngelCentral team. These informal chat sessions are held twice monthly where we will share about what we do, our membership offers, and/or what Angel Investing is all about. Secure your slots here.
If you are a startup and would like to raise funds from our members, send in your application here!