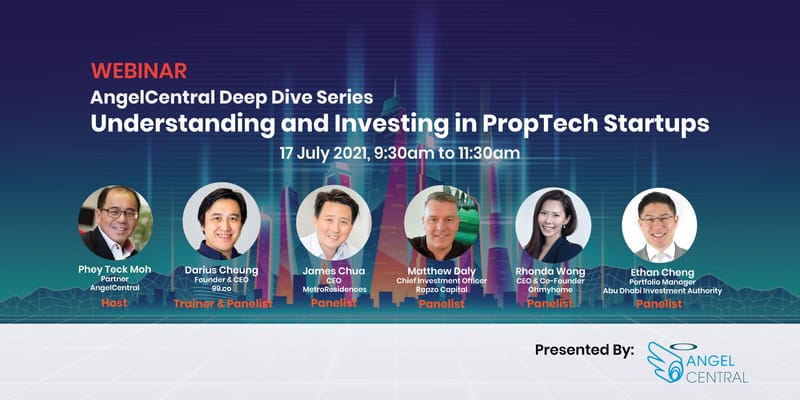 AngelCentral Deep Dive Series Webinar: Understanding and Investing in PropTech Startups
Property Technology or PropTech refers to offering technology-enabled products or services to the various aspects of the real estate markets. PropTech applications have a large total addressable market driven by real estate being the world's largest asset class with an approximate total asset value of $280.6 Trillion. The rising interest in PropTech is also reflected by the increase in venture capital funding from $33 Million in 2010 to nearly $24 Billion in 2020.
At the workshop, Darius Cheung, Founder & CEO of 99.co, used his experiences and discussed case studies to aid our angels to better understand the PropTech space, the journey a typical PropTech startup takes, what a PropTech startup requires to grow and what key factors our angels should be aware of before investing. The 2nd half of the workshop consisted of a panel discussion led by experienced practitioners who gave our angels greater insight into the PropTech space.
Panelists included:
Darius Cheung, Founder & CEO, 99.co
Matthew Daly, Chief Investment Officer, Rapzo Capital
James Chua, CEO, MetroResidences
Rhonda Wong, CEO & Co-founder, Ohmyhome
Ethan Cheng, Portfolio Manager, Abu Dhabi Investment Authority
About Darius Cheung, Founder & CEO, 99.co
Darius Cheung is the founder and CEO of 99.co, the leading real estate technology company in Southeast Asia.
With a mission to build the most trusted property marketplace, 99.co fuses data, design and technology to help property buyers make the best decision on the biggest purchase in their life. 99.co is the fastest growing property platform in Southeast Asia, operating brands including 99.co, iProperty.com.sg, Srx.com.sg and Rumah123.com, and garnered investment from top investors including Sequoia, East Ventures, REA, AllianzX and Eduardo Saverin.
Prior to founding 99.co, Darius was the Director of Consumer Mobile Technology at McAfee, the world leader in software security, which he joined through the acquisition tenCube, a Singapore-based mobile security company he founded and served as CEO for 5 years. At tenCube, Darius grew the startup to a team of 26 people in 2 locations, raised 2 rounds of financing, created award-winning mobile security product WaveSecure and led the startup to profitability.
Darius was awarded the Singapore Youth Award, Singapore's highest youth accolade. He is an angel investor in over a dozen startups, an Alumni of NUS Overseas College.
About Matthew Daly, Chief Investment Officer, Rapzo Capital
Matthew is the Chief Investment Officer of Rapzo Capital, a family-funded investment company headquartered in Singapore.
Concurrently, he is supporting an international interior design firm in an advisory capacity and acted as CTO for a world renowned contemporary indigenous art gallery along with a handful of large and small investment companies based in Singapore.
About James Chua, CEO, MetroResidences
James is the CEO of MetroResidences. He grew the company from a 2-man startup in 2014 to a regional company operating in 4 countries within Asia Pacific with 7-figure revenue in 2021.
Prior to MetroResidences, James was the cofounder of PandaBed where he built a network of trusted vacation homes in Asia Pacific. Apart from educating Asia on the benefits of staying in homestays, BnBs, peer-to-peer and private residences, he also created a world-class vacation rental platform that is good for the traveler and good for the homeowner which drew attention to the sharing economy movement as a new consumption model in Asia.
About Rhonda Wong, CEO & Co-founder, Ohmyhome
Ms. Rhonda Wong is the co-founder of Ohmyhome and serves as the Chief Executive Officer. Rhonda's wealth of experience in the business and the real-estate sector has helped her drive the company to become Singapore's first one- stop property solution. The platform officially launched in September 2016, and quickly emerged as Singapore's #1 HDB app in January 2017. Responsible for the overall management of Ohmyhome and driving its growth, Rhonda's many accomplishments include leading the company to become one of the best start-ups of 2017. Her mission is to simplify housing transactions and provide an enhanced home search experience that saves time and money.
Rhonda is a founding member of the inaugural Singapore PropTech Association which aims to innovate the traditional real estate industry. Her astute business acumen and passion for property make Rhonda a sought-after mentor at entrepreneurial and Proptech events, and she is often invited to speak at schools and business leadership seminars. Most recently, she clinched the Women of the Future South-East Asia Award 2020 for Property, Infrastructure and Construction Category and the RICS Awards 2020 Southeast Asia's Women of the Built Environment Award. In 2019, Rhonda is the Founder of The Year at 2019 Singapore Rice Bowl Startup Awards. In March 2017, Rhonda was recognized as Women Icon at the Inaugural Women Icons Summit & Awards. Avid in giving back to the community, she has volunteered across the world from Detroit, Chicago, Dominican Republic to Singapore and Myanmar.
About Ethan Cheng, Portfolio Manager, Abu Dhabi Investment Authority
Ethan has been in the real estate industry for over 15 years, investing on behalf of large global institutions. Over his career, he has been based in Seattle, Singapore, Shanghai, Hong Kong and Abu Dhabi. Currently, he serves as Portfolio Manager for Abu Dhabi Investment Authority's (ADIA) Asia Investment Team, where he helped deploy over $4B of equity into real estate investments over 10 years, including Paya Lebar Quarter.
He also co-chairs the PropTech Initiative for ADIA, where he evaluates PropTech investments and new technologies and deployed $60M into PropTech investments. He also co-founded cSuites, a flexspace start-up focused on corporate clients that is a JV between ADIA and Lendlease.
The event has passed. Find more upcoming event here or subscribe to our mailing list to receive the updates about the future events.
If you are an investor and would like to find out more about Angel Investing and what AngelCentral does, we have a coffee session hosted by the AngelCentral team. These informal chat sessions are held twice monthly where we will share about what we do, our membership offers, and/or what Angel Investing is all about. Secure your slots here.
If you are a startup and would like to raise funds from our members, send in your application here!