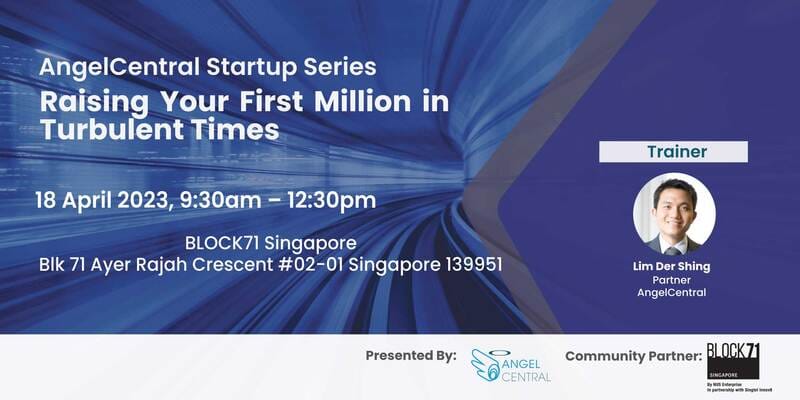 AngelCentral Startup Series: Raising Your First Million in Turbulent Times
One of the biggest challenges that many founders face is fundraising. Most founders are excellent at growing their business and getting customers, but less proficient at the fundraising game. As such, many founders mismanage the process and end up not doing justice to their business. Some end up raising insufficient funds, accepting unfair and/or unfavorable terms, or diluting themselves too much with investors that they don't even like. Needless to say, making fundraising mistakes has drastic implications on the health of the business and also affects the final reward that awaits successful founders. The good news is that many of these issues can be overcome through proper education, planning, and execution.
Demystifying the fund raising process for first time fund-raisers. Via this workshop, the trainer shared how both VCs and angel investors evaluate and assess deals - their portfolio thinking, financial mathematics, evaluation criteria and mindset. He also covered actual fundraising process, due diligence and managing your investors post-investment.
Topics covered:
Current ecosystem and macro situation

Financing for startups - Why raise?

Difference & the Math for Angels and VCs

How investors Evaluate - Amended Harvard Methodology

Fund Raising Process & due diligence

Post Investment roles and expectations
About the Trainer:
Lim Der Shing, Partner, AngelCentral
Der Shing is an experienced Angel Investor and has invested (with Shao Ning) over USD$5m into 40 startups and 8 VC funds. He also serves on multiple startup boards and volunteers with the Singapore government on the topic of education and startups in various capacities. As the Former CEO and cofounder of JobsCentral Group, Der Shing led the company's growth without any external funding, from a 2-man startup into a highly profitable regional job portal with over 150 staff in 3 countries. In 2011, the business was sold to CareerBuilder.
The event has passed. Find more upcoming event here or subscribe to our mailing list to receive the updates about the future events.
If you are an investor and would like to find out more about Angel Investing and what AngelCentral does, we have a coffee session hosted by the AngelCentral team. These informal chat sessions are held twice monthly where we will share about what we do, our membership offers, and/or what Angel Investing is all about. Secure your slots here.
If you are a startup and would like to raise funds from our members, send in your application here!