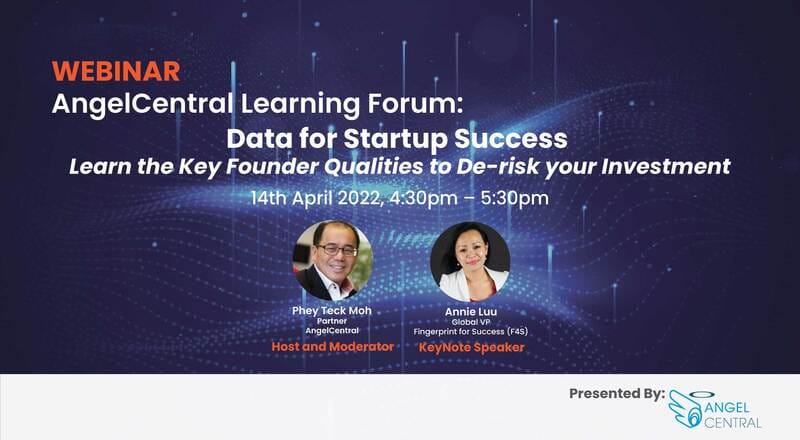 AngelCentral Learning Forum: Data for Startup Success - Learn the Key Founder Qualities to De-risk your Investment
At the webinar, Annie Luu, Global VP of Fingerprint for Success (F4S), shared about the top strengths and blindspots of successful and unsuccessful startups based on 20 years of evidence based research, and how Tech companies like Canva used the data to grow from a $3M company to $40B, helping participants learn directly how to benefit from this data as either a founder or an investor.
About Annie Luu, Global VP, Fingerprint for Success (F4S)
Annie is the Global VP for Fingerprint for Success (F4S). F4S is a revolutionary People Analytics tool, based on world-first scientific studies of high-performance individuals and teams. The F4S coaching tool reveals the hidden talents and blind spots inside yourself and your team. 
Previously Annie was the ex-General Manager of Investible, a global group of angel Investors and VC Fund who invest in early stage start-ups. Over 90 companies in the portfolio including start-up companies such as Canva, Ipsy, Brandless, Hotelmize, Manettas Shore Trade and Dexibit. 
Annie has delivered and supported over 80 accelerator programs and VCs around the world, coaching over 1,000 startup founders and teams on growth, business model validation, investor readiness and pitching for capital. As an investor/mentor first hand, she was able to see and coach blindspots in founders and teams and why they failed in the first 3-5years. F4S was a portfolio company where Annie got to use the tool as part of the due diligence investment process.
The event has passed. Find more upcoming event here or subscribe to our mailing list to receive the updates about the future events.
If you are an investor and would like to find out more about Angel Investing and what AngelCentral does, we have a coffee session hosted by the AngelCentral team. These informal chat sessions are held twice monthly where we will share about what we do, our membership offers, and/or what Angel Investing is all about. Secure your slots here.
If you are a startup and would like to raise funds from our members, send in your application here!