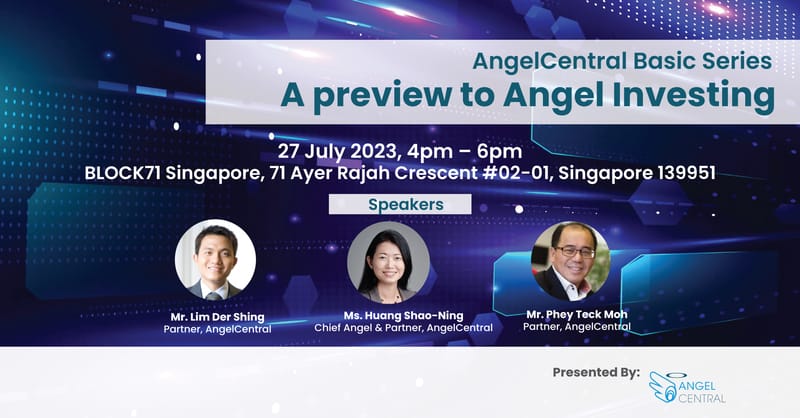 AngelCentral Basic Series: A Preview to Angel Investing
This will be a physical event.
Calling all Angel Investors, Entrepreneurs, VCs, fund managers, academics, corporates, and anyone else who wishes to learn more about Angel Investing in ASEAN!
Join us for this session where 3 very active angel investors in Southeast Asia, Mr. Lim Der Shing, Partner of AngelCentral, Ms. Huang Shao-Ning, Chief Angel & Partner of AngelCentral, and Mr. Phey Teck Moh, Partner of AngelCentral will be sharing insights on Angel Investing in ASEAN.
Through this session, you will have a better understanding of startup investing and see if it is something suitable for you.
About the speakers:
Ms. Huang Shao-Ning, Chief Angel & Partner, AngelCentral
Shao-Ning started her first business JobsCentral as a fresh graduate back in 2000. She grew and exited the business in 2011 to CareerBuilder. She cares about processes and about doing things for the right reasons. Since her exit, her life focus has been to be relevant and pay it forward. Shao-Ning has been actively advising deep tech startups and also some social entrepreneurs. She is a peer-mentor to many women but most importantly she is a wife and mom to four boys. In the family angel/PE portfolio, she (and Der Shing ) has investments in over 40 startups (of which, 6 are led by women CEOs!) and 8 VC investments.
Mr. Lim Der Shing, Partner, AngelCentral
Der Shing is an experienced Angel Investor and has invested (with Shao Ning) over USD$5m into 45 startups and 8 VC funds. He also serves on multiple startup boards and volunteers with the Singapore government on the topic of education and startups in various capacities. As the Former CEO and co-founder of JobsCentral Group, Der Shing led the company's growth from a 2-man startup into a highly profitable regional job portal with over 150 staff in 3 countries. In 2011, the business was sold to CareerBuilder. He shares his investment thoughts and reflections on his personal blog http://limdershing.com
Mr. Phey Teck Moh, Partner, AngelCentral
Phey Teck Moh is a mentor and angel investor in the Singapore entrepreneur ecosystem. He co-founded AngelCentral, to build a community of angel investors; offering education workshops and curate startups for angel investments. At Entrepreneur First, Teck Moh is a mentor to extraordinary people to build amazing startups from scratch. Xpanasia is an advisory company specializing in Telecommunications and Information Technology companies in Asia Pacific.
He had retired as Asia President, Motorola Solutions in May 2013. During his tenure, Motorola Solutions Asia Pacific grew to more than US$1B. Prior to Motorola, Phey was the President & Chief Executive Officer of Pacific Internet, a NASDAQ- listed Internet service provider in Asia Pacific. He started his career at IBM and moved to Compaq.
About AngelCentral:
AngelCentral is one of the fastest-growing community of angel investors in Southeast Asia. We organize regular curated pitch sessions, angel education workshops and provide syndication services.
AngelCentral incorporated officially in February 2018 with the mission to build a community of effective angel investors in Southeast Asia. Since Inception, AngelCentral has trained >500 angels and our members have invested >S$25m into startups who register with us.
The event has passed. Find more upcoming event here or subscribe to our mailing list to receive the updates about the future events.
If you are an investor and would like to find out more about Angel Investing and what AngelCentral does, we have a coffee session hosted by the AngelCentral team. These informal chat sessions are held twice monthly where we will share about what we do, our membership offers, and/or what Angel Investing is all about. Secure your slots here.
If you are a startup and would like to raise funds from our members, send in your application here!