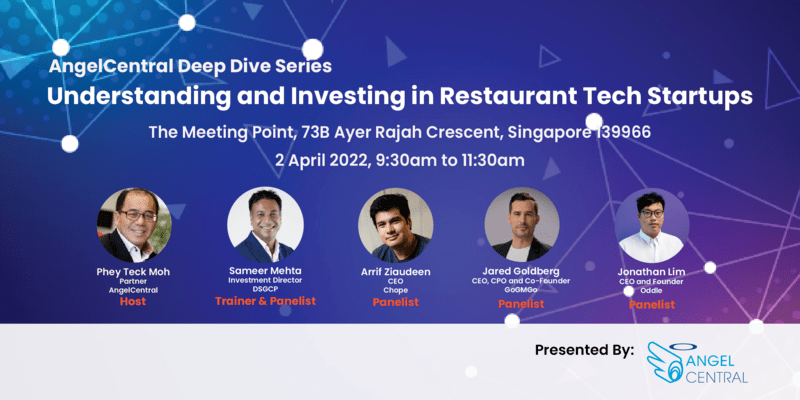 AngelCentral Deep Dive Series: Understanding and Investing in Restaurant Tech Startups
From contactless ordering and payment to automated kitchen operations and food delivery, innovation and technologies used in the restaurant industry are not limited. These technologies were once casual tools to increase business opportunities and better service delivery to clients. At present, restaurants are adapting to the digitalisation at an accelerated pace due to the COVID-19 pandemic. Ensuring a safe dining experience through automation and contactless services have ever since become a necessity. With the situation in mind, the food technology market size worldwide was projected to exceed 342 billion U.S. dollars by 2027 from 220.32 billion U.S. dollars in 2019.
Against the above backdrop, what new opportunities can investors capitalise on from the revolution in the restaurant industry?
At this workshop, Sameer Mehta, Investment Director of DSGCP, shared exclusive case studies to help our angels understand more about the Restaurant Tech space, the growth process a typical company will have, the kind of assistance a startup would require and what key factors our angels should look out for before investing. The workshop ended with a panel discussion led by experienced practitioners who gave our angels greater insight into the Restaurant Tech space.
Panelists included:
Sameer Mehta, Investment Director, DSGCP

Arrif Ziaudeen, CEO, Chope

Jared Goldberg, CEO, CPO and Co-Founder, GoGMGo

Jonathan Lim, CEO and Founder, Oddle
About Sameer Mehta, Investment Director, DSGCP
Sameer is an Investment Director at DSGCP and heads the South East Asia operations. He joined in July 2021 and has over 14 years of experience as an operator, investor and management consultant. Prior to joining DSGCP, he co-led investments in a number of DSGCP portfolio companies for Singha or his personal capacity including Brewlander, Melati, Golden Duck, YouVit and Perro.
Before DSGCP, he spent 5 years as Chief Operating and Investment Officer for Singha Beer's international division, where he led their operating businesses outside of Thailand, was responsible for M&A, partnerships and alliances, and aided a family member with private investing across consumer and tech businesses in India & South East Asia. Prior to that he was a Manager at Bain & Company SEA where he consulted extensively with consumer product companies.
He worked at Deloitte Consulting in Canada, US and UAE prior to his MBA. Sameer has an MBA from INSEAD, a BSc in Economics and a BSc in Information Systems from Drexel University where he graduated Magna Cum Laude and was on the Dean's List.
About Arrif Ziaudeen, CEO, Chope
Chope's CEO Arrif Ziaudeen is a born and bred Singaporean on a mission to give diners in Asia the best possible restaurant dining experience. Prior to founding Chope, Arrif — who studied law and also obtained an MBA from Stanford GSB — worked in management consulting and private equity.
What started out as a simple premise to empower and enable consumers to make restaurant reservations 24 hours a day, 7 days a week, from anywhere in the world has now been stewarded by Arrif into a seven city, 200+ employee, 5,000+ restaurant partner operation that has seated more than 83 million diners since its inception.
Over the years, Arrif's vision for Chope has also steadily transformed the face of F&B across the region, by introducing technology as efficiency drivers into what has been a very traditionally run industry, one restaurant at a time. This vision also means that Chope is invested in uncovering where the future of restaurant technology is headed, and ensuring that Chope builds the technology it'll take to get there.
A big believer in the notion that 'a rising tide lifts all boats', Arrif is also a committed advocate for the region's tech and startup space. The father-of-two regularly volunteers his time to mentorship and contributes at industry events across the region.
About Jared Goldberg, CEO, CPO and Co-Founder, GoGMGo
Jared Goldberg is the Co-Founder, CEO and CPO of GoGMGo, the world's first digital General Manager made specifically for F&B. This comes after his role as Chief Data Officer for Sequoia and SoftBank-backed Funding Societies where he led the data management, engineering, analytics, and science teams. Prior to that, he spent 15 years in the financial services technology & data space, where his last corporate role was at Standard Chartered as Executive Director, Head of Analytics & Insights for the COO business unit.
As a third-generation F&B entrepreneur, Jared was Co-Founder and CFO of MexOut, which at the point of exit in 2018 was the biggest Mexican QSR chain in Singapore with 8 outlets. It was during this period that the idea of GoGmGo was born and his goal to defragment the F&B technology landscape took shape.
His pursuits took him from his California roots to living in London, New York, and ultimately Singapore where he has been residing for over 13 years. He has a Bachelors in Economics from University of California, Berkeley with a specialisation in Econometrics.
About Jonathan Lim, CEO and Founder, Oddle
Jonathan Lim is the founder and CEO of Oddle, the fast-growing omnichannel F&B technology platform with a network of over 5,000 restaurants in Singapore, Malaysia, Taiwan and Hong Kong. Jonathan created Oddle with the mission to empower all restaurant operators to take charge of their future by delivering first-class experiences and engagements to their customers through its full suite of solutions that seamlessly connects the online-to-offline customer journey.
The event has passed. Find more upcoming event here or subscribe to our mailing list to receive the updates about the future events.
If you are an investor and would like to find out more about Angel Investing and what AngelCentral does, we have a coffee session hosted by the AngelCentral team. These informal chat sessions are held twice monthly where we will share about what we do, our membership offers, and/or what Angel Investing is all about. Secure your slots here.
If you are a startup and would like to raise funds from our members, send in your application here!