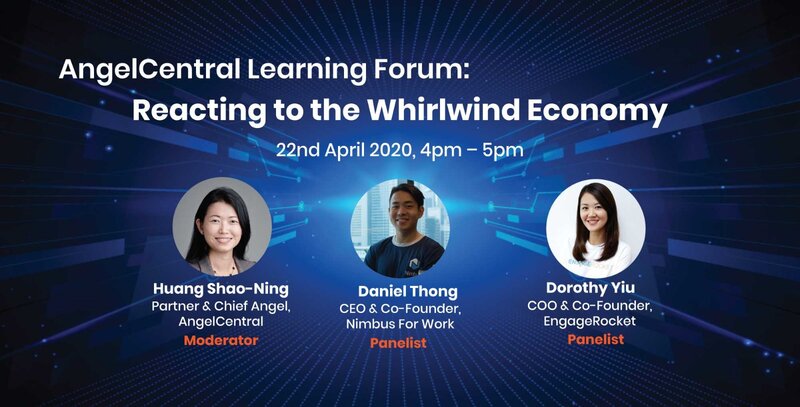 AngelCentral Learning Forum: Reacting to a Whirlwind Economy
During the webinar, a panel of established startup founders discussed how COVID-19 disrupted all of their daily business operations and how each of them went about dealing with these issues in order to keep their respective businesses afloat.
Panelists included:
Dorothy Yiu, COO & Co-Founder, EngageRocket
Daniel Thong, CEO & Co-Founder, NimbusForWork
Huang Shao-Ning, Partner & Chief Angel, AngelCentral

About Dorothy Yiu, COO & Co-Founder, EngageRocket
Dorothy is the Co-founder and COO at EngageRocket, the first S.E.A. venture-backed HR tech company that analyses employee experience in order to improve organisational health and productivity.
EngageRocket aims to use 'people analytics' to create better workplaces and happier employees. Previously, she served as the Head of Operations for Gallup (South East Asia) overseeing the execution of large-scale consulting projects. Dorothy obtained double degrees BBM & BAcc from the Singapore Management University under the Lee Kong Chian Scholarship.
About Daniel Thong, CEO & Co-Founder, NimbusForWork
Daniel is the Co-founder of Nimbus, an office management startup that makes it easy for office managers to run their facilities.
Nimbus employs over 59 employees, majority of them are cleaners and technicians with the mission to create social empowerment through good jobs.
Previously, he was part of the founding team of FundedHere and ServisHero and helped to launch two startups from the ground up. He graduated from LSE and Oxford.
About Huang Shao-Ning, Partner & Chief Angel, AngelCentral
Shao-Ning is the Chief Angel and co-Founder of AngelCentral (www.angelcentral.co). AngelCentral started as a community in Feb 2017 to facilitate angel investments in Singapore. The community grew rapidly to almost 280 strong within ten months, and helped raised 8+M since 2016. Seeing the enthusiasm and support from the community, Shao-Ning together with Teck Moh and Der Shing, decided to incorporate and provide deeper angel training and investment support, with the key mandate to bridge good angels with good startups in Southeast Asia. 
For the past few years, Shao-Ning focuses on three aspects in her life, being an angel investor, startup advisor and most importantly as a wife and mother to four boys ages between 3 and 16. Shao-Ning meets with around 5-7 startups weekly as a possible investor and also shares her experiences with some of them. The startups are mainly technology startups, with verticals ranging from Medical to HR to Education to Food Tech. Whenever she can, she tries her best to support entrepreneurship causes, especially for women executives / founders. 
Previously, Shao-Ning was the Managing Director/ Group Deputy CEO of JobsCentral Group (now CareerBuilder Singapore). She started the company as a fresh graduate in 2000, grew it from a two-man team to 150-pax regional business, and sold it in 2011 to the US market leader, CareerBuilder. She left the company in 2014. In 2015 she started a web-based video platform to promote women's confidence but sadly had to shut it down due to partner incompatibility. Her life focus is to be relevant and pay it forward, helping wherever she can.
The event has passed. Find more upcoming event here or subscribe to our mailing list to receive the updates about the future events.
If you are an investor and would like to find out more about Angel Investing and what AngelCentral does, we have a coffee session hosted by the AngelCentral team. These informal chat sessions are held twice monthly where we will share about what we do, our membership offers, and/or what Angel Investing is all about. Secure your slots here.
If you are a startup and would like to raise funds from our members, send in your application here!