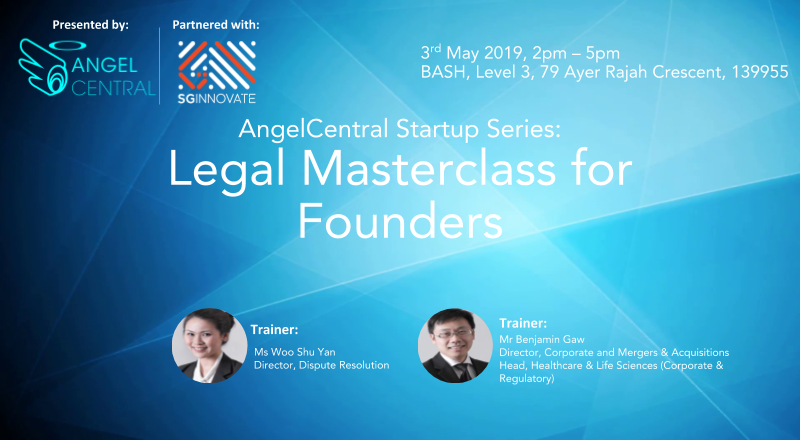 AngelCentral Startup Series: Legal Masterclass for Founders
One of the biggest challenges that many founders face is fundraising. While founders might be excellent in growing their business and getting customers, they are usually novices at fund raising and find it daunting and tough. And frequently, even when the round is closed successfully, they may not have best protected their own interests and that of the business down the road. This is because many founders are not aware of the legal issues to look out for when drafting contracts and the nuances behind the different clauses. 
This session helped to overcome many of these issues through proper education, legal advice and guidance. Our trainers, Ms Woo Shu Yan and Mr Benjamin Gaw, highly regarded legal specialists in Drew and Napier, one of Singapore's leading and largest full-service law firms, shared their experiences of meeting >400 startups a year to help our early stage founders gain many key insights about the key legal issues behind each fundraising round. Below is a short summary of the content covered in the workshop.
Topics covered:
1. Funding Rounds
What to watch out for from a start-up's perspective

We used the Venture Capital Investment Model Agreements initiated by the Singapore Academy of Law as a starting point/structure to discuss the different clauses and elements which the start-up should understand and consider in its negotiations

Anecdotes and experience shared by AngelCentral founders
2. Operations
Basics of shareholder agreements and why they may be necessary

Duties of directors

Standard contracts to consider: Non-disclosures, employment

Other statutory obligations – data protection for example
About Ms Woo Shu Yan
Shu Yan practices corporate and commercial litigation and arbitration, and has handled a diverse range of matters including private equity, corporate, banking and finance disputes and regulatory actions. She has a particular interest in trust and shareholder disputes and has represented prominent clients and high net worth individuals in these disputes. She is also actively engaged in advising clients both in and out of the courtroom on wide-ranging and complex legal issues. Shu Yan is committed to achieving resolutions which are commercially practical and sustainable for clients.
Shu Yan has an active arbitration practice. The matters which Shu Yan has handled usually involve damages of significant value or span multiple jurisdictions. She is experienced in handling matters involving foreign law issues. In 2011, she was appointed to assist the Court as amicus curiae in a case that concerned certain sentencing issues. The learned Judge for the case expressed his gratitude to Shu Yan for her thorough research and fair-minded opinions in his written judgment – [2012] 1 SLR 116.
About Mr Benjamin Gaw
Benjamin is a Director in the Corporate and Mergers & Acquisitions Practice Groups, as well as Head, Healthcare & Life Sciences – Corporate & Regulatory. He is also a member of the Telecommunications Media and Technology and Information Technology Practice Group and the Employment Practice Group.
Benjamin Gaw regularly acts for and advises clients on a wide spectrum of mergers and acquisitions and other transactional and corporate and commercial matters. These matters include sale and purchases of companies and corporate assets, amalgamations, joint ventures, shareholder agreements, corporate restructuring as well as general commercial law.
He also heads up the Healthcare and Life Sciences - Corporate and Regulatory practice, and advises on a full spectrum of matters involving the biotechnology, medical devices, healthcare, and pharmaceutical industries. His experience includes reviewing and drafting clinical trial agreements, patient access programmes, research and development agreements, review of compliance policies, advising on regulatory and ethical concerns, including data and personal privacy concerns especially in the healthcare sector, product liability issues and product recalls.
In relation to technology and corporate intellectual property matters, Benjamin regularly advises on legal issues in the commercialisation and exploitation of intellectual property rights, such as research and development agreements, IP licensing and cross-licensing agreements, IP assignments and also franchises and franchising businesses. Benjamin also regularly reviews software licensing agreements, IT procurement and relatedcontracts, website terms of use, and other IT and technology contracts. He also advises on start-ups and early stage investments in technology companies. He also regularly advises on ICOs and other fintech matters.
Benjamin's practice also includes a strong emphasis on employment law, and he regularly advises clients on a range of employment issues arising from the course of an employment relationship, from hiring to talent development and retention, and exit management. These include preparing and reviewing the employment contracts and handbook templates, promotion letter templates, sponsorship agreements for its employees and termination agreements.
The event has passed. Find more upcoming event here or subscribe to our mailing list to receive the updates about the future events.
If you are an investor and would like to find out more about Angel Investing and what AngelCentral does, we have a coffee session hosted by the AngelCentral team. These informal chat sessions are held twice monthly where we will share about what we do, our membership offers, and/or what Angel Investing is all about. Secure your slots here.
If you are a startup and would like to raise funds from our members, send in your application here!