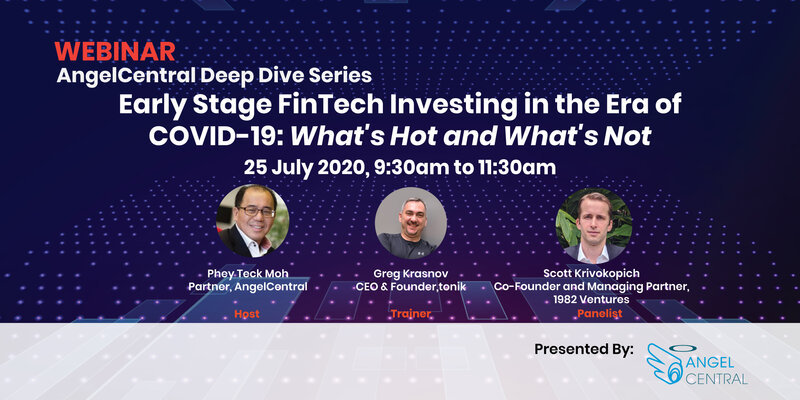 AngelCentral Deep Dive Series Webinar - Early Stage FinTech Investing in the Era of COVID-19: What's Hot and What's Not
FinTech is the amalgamation of the terms "finance" and "technology". It generally refers to software and modern technologies employed by businesses to provide automated, augmented financial services and processes. Whilst it is not a new industry, it is certainly one that is constantly evolving at a quick pace. From the likeness of mobile banking, cryptocurrency, and investment-related apps, FinTech has a wide range of applications.
Parented by both the technological and financial industries, the FinTech space is definitely one to keep an eye on for its budding potential to open doors for an endless amount of possibilities.
At this workshop, Greg Krasnov, CEO & Founder of tonik, shared many case studies to assist our angels to understand more about the FinTech space, the journey of a typical FinTech company, what a Fintech startup requires to grow and which factors to be mindful of when investing in Fintech companies. The workshop ended with a panel discussion by experienced practitioners who gave our angels a deeper insight into this space.
Panelists included:
Greg Krasnov, CEO & Founder, tonik
Scott Krivokopich, Co-Founder & Managing Partner, 1982 Ventures
About Greg Krasnov, CEO & Founder, tonik
Greg is the Founder & CEO of tonik (www.tonikbank.com), the first digital neobank in the Philippines operating on the basis of its own bank license.
Prior to tonik, Greg co-founded and chaired four other successful fintech startups in Asia, including Credolab, FLOW, Solarhome, and AsiaKredit, as well as having been the Founder/CEO of one of the top private equity-backed success stories in Consumer Lending in Eastern Europe, Platinum Bank (Ukraine), exited in 2013 for $150 million. Before that, Greg spent 10 years in Private Equity in Western and Central Europe at Bank of America (London) and Innova Capital (Warsaw). A serial entrepreneur at heart, Greg's launched his first business at the age of 18, earning his way through college through coding and PC repair.
About Scott Krivokopich, Co-Founder & Managing Partner, 1982 Ventures
Scott is the Managing Partner of 1982 Ventures, a seed stage VC fund focused on fintech in Southeast Asia. He previously was Principal and Head of Investments at tryb Group, where was responsible for construction and managing a portfolio early and growth-stage fintech investments. He has experience leading deals in multiple fintech verticals including SaaS enterprise technology, lending, and insurance across Southeast Asia.
The event has passed. Find more upcoming event here or subscribe to our mailing list to receive the updates about the future events.
If you are an investor and would like to find out more about Angel Investing and what AngelCentral does, we have a coffee session hosted by the AngelCentral team. These informal chat sessions are held twice monthly where we will share about what we do, our membership offers, and/or what Angel Investing is all about. Secure your slots here.
If you are a startup and would like to raise funds from our members, send in your application here!