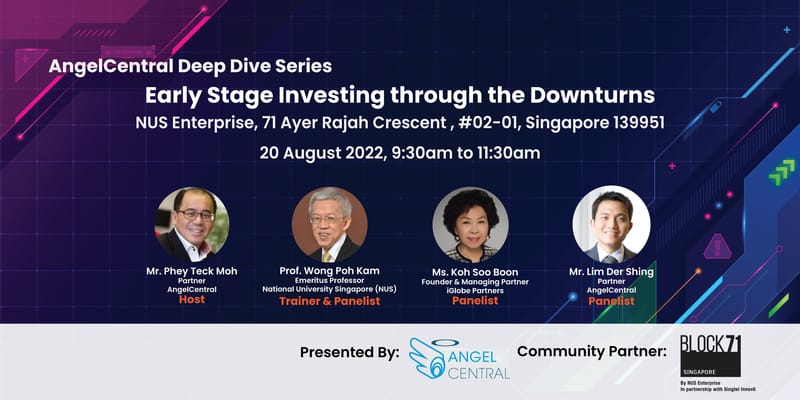 AngelCentral Deep Dive Series: Early Stage Investing through the Downturns
From the Great Depression in the 1920s to the Asian Financial Crisis in 1997 and the latest downturn due to the global pandemic, uncertainties surfaced for many. In fact, when COVID-19 hits in 2020, funding outlooks and startup ecosystems were disrupted. Despite that, this crisis unleashed a new area of opportunities while adding several new dimensions to the valuation game.
Even the most experienced investors cannot predict the happenings of a downturn in time. However, this will not stop them from investing as they know how to take measured steps to control their risks and be observant to find new opportunities in every downturn.
Given the circumstances, how can we, as early-stage investors, strategise investing through the downturns? What are some precautions that we can take for the post-pandemic economy?
During this workshop, Prof. Wong Poh Kam, Emeritus Professor at NUS, shared his own experiences on early-stage investing with our angel investors to help them better strategise their own investing through the downturns. The workshop then continued with a panel discussion led by experienced practitioners who shared their collective investing experiences over the years.
Panelists included:
Prof. Wong Poh Kam, Emeritus Professor, NUS

Ms. Koh Soo Boon, Founder and Managing Partner, iGlobe Partners

Mr. Lim Der Shing, Partner, AngelCentral

About Prof. Wong Poh Kam, Emeritus Professor, NUS
Professor WONG Poh Kam is an Emeritus Professor at NUS since July 2022, and was Professor at the NUS Business School and Professor (by courtesy) at the LKY School of Public Policy prior to that. He obtained two BSc.'s, an MSc. and a Ph.D. from MIT. He has published extensively in leading international refereed journals on entrepreneurship and innovation, and was ranked among the top 2% most highly cited researchers globally by AD Scientific Index in 2020 and 2021. He has also consulted widely on innovation and entrepreneurship ecosystem development policies for various international agencies including the World Bank, OECD and Asian Development Bank, various government agencies in Singapore including MTI, EDB, ASTAR, Min. of Law, MPA and IPOS, and many private corporations in Asia. He was a Fulbright Visiting Scholar at U.C. Berkeley, a visiting scholar at Stanford University, Oxford University and GRIPS Japan, and a Pacific Leadership Fellow at UC San Diego.
Besides his academic position, he was concurrently the Director of NUS Entrepreneurship Centre from August 2001 until July 2019, where he created or provided academic leadership for several high-impact experiential entrepreneurship education programs, including the NUS Overseas Colleges (NOC) program and the Technopreneurship Minor program (open to all undergraduates in NUS), the NRF-funded National Lean Launchpad Program on technology commercialization for professors and graduate students in the four leading universities in Singapore, and the annual NUS Enterprise Summer Program on Entrepreneurship. He also advised the NUS Enterprise CEO on the strategic development of various NUS Enterprise programs, including Block71 in Singapore, Indonesia, Suzhou and San Francisco, and has served as a mentor to many tech start-ups incubated by NUS Enterprise. He initiated StartUp@Singapore, the largest annual business plan competition in Singapore (1999-2012), and the DBS-NUS Social Venture Challenge Asia, the largest annual social entrepreneurship competition in Asia (2013-18). He also initiated and co-chaired the Port Innovation Ecosystem Re-imagined (PIER71), a joint program of NUS Enterprise and the Maritime Port Authority (MPA) of Singapore (2018-19).
An entrepreneur prior to joining academia, he has been an active angel investor in tech start-ups in Singapore, Silicon Valley and China. He was the founding chairman of Business Angel Network (Southeast Asia), and is an advisor to iGlobe Partners, a global VC fund based in Singapore. He received the Public Administration Medal (Silver) Award from the Singapore Government in 2013 for his contribution to entrepreneurship education in Singapore, and the "Entrepreneur for the World" Award (Educator Category) from the World Entrepreneurship Forum in 2015. He has been a board member of the Competition and Consumer Commission of Singapore (CCCS) (2016-2022).
About Ms. Koh Soo Boon, Founder and Managing Partner, iGlobe Partners
Soo Boon Koh founded iGlobe Partners in December 1999 when venture capital was experiencing the onset of globalisation. As a veteran in the global VC industry with a specialisation in technology investing, she has achieved consistent top-quartile fund return for her investments. Working alongside prominent VCs such as Sequoia Capital, IVP, RRE, Lux Capital, DCM and Qualcomm Ventures, she has since established herself as a prominent leader in the investing community.
Under Soo Boon's leadership, notable IPOs among iGlobe's portfolio companies in recent years are Unity Software Inc (NYSE: U), Twist Bioscience Corp (NASDAQ: TWST), Matterport Inc (NASDAQ: MTTR), NerdWallet Inc (NASDAQ: NRDS), Ginkgo Bioworks Inc (NYSE: DNA), Hippo Holdings Inc (NYSE: HIPO), Autonomous Control Systems Laboratory Ltd (TYO: 6232) and VeriSilicon Microelectronics (Shanghai) Co Ltd (SHA: 688521). 
Prior to iGlobe, Soo Boon held senior management positions in Vertex Management from 1988 to 1999, playing a critical role in establishing the operations of Vertex in California and Vertex Europe in London. Her career started at DBS Bank where she held various senior management positions including Head of International Department, supervising the operations of international loan syndication.
In 2020, Soo Boon was recognised in the inaugural Singapore 100 Women in Tech List for her significant contributions in the tech sector. In 2022, she was inducted into the Singapore Women's Hall of Fame by President Halimah Yacob as the Founder of Singapore's first female-led venture capital firm.
Soo Boon has always been inspired to support women leaders in tech and actively promote board diversity especially in tech companies. She is currently an Honorary Council Member of the Singapore Chinese Chamber of Commerce & Industry (SCCCI), having served as the Chairwoman of SCCCI's Career Women Group from 2009 to 2019. She is currently a member of the International Women's Forum Singapore Chapter and mentors professional women on both private and public boards. 
About Mr. Lim Der Shing, Partner, AngelCentral
Der Shing is an experienced Angel Investor and has invested (with Shao Ning) over USD$5m into 40 startups and 8 VC funds. He also serves on multiple startup boards and volunteers with the Singapore government on the topic of education and startups in various capacities. As the Former CEO and cofounder of JobsCentral Group, Der Shing led the company's growth from a 2-man startup into a highly profitable regional job portal with over 150 staff in 3 countries. In 2011, the business was sold to CareerBuilder. He shares his investment thoughts and reflections on his personal blog http://limdershing.com
The event has passed. Find more upcoming event here or subscribe to our mailing list to receive the updates about the future events.
If you are an investor and would like to find out more about Angel Investing and what AngelCentral does, we have a coffee session hosted by the AngelCentral team. These informal chat sessions are held twice monthly where we will share about what we do, our membership offers, and/or what Angel Investing is all about. Secure your slots here.
If you are a startup and would like to raise funds from our members, send in your application here!