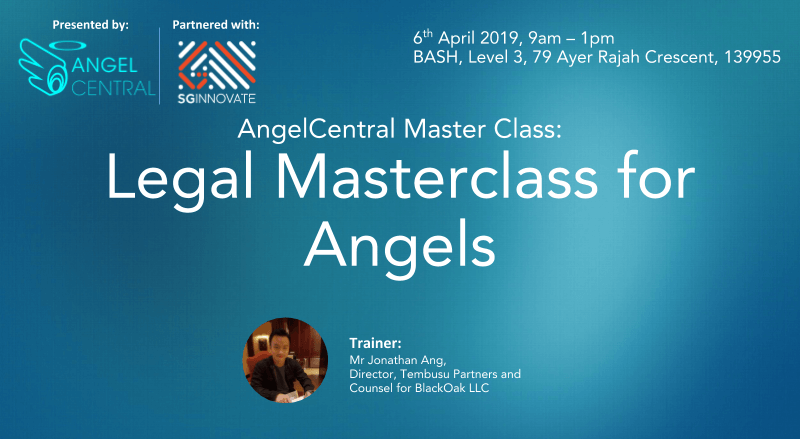 Legal Masterclass for Angels
The masterclass summarised:
1. The typical startup investment process: Learned what went behind an investment process and what to take note of during each stage; Know what it actually meant for an investment "to be completed", how to conduct due diligence, and matters of consideration before closing the deal.
2. Learned about the capital structure of a company: what are the apparent and subtle differences between ordinary & preferred shares, unsecured debt, etc. and what these differences play up during the liquidation events.
3. Learned the different investment instruments available for startups: the features & pros and cons of each investment instrument that startups can employ; the issues behind and challenges of using SAFE and KISS notes, and the appropriate instrument to use for each scenario of investment. 
4. Gained an overview of a typical startup investment contract and walkthrough of the terms behind a Convertible Loan and Convertible Preferred stock agreement. Learned about the common terms present in every typical investment agreement, what to look out for, when to employ or modify certain clauses, etc. Most importantly, learned how to protect yourself as an investor and maximising probability for success at the same time.
About the Trainer:
Mr. Jonathan Ang, who is currently an Investment Director in Tembusu Partners and a Legal Counsel in Blackoak LLC, will be teaching on what goes behind an investment process, the capital structure of a company and the pros and cons of typical investment instruments that a startup can employ. The focus of the session will be on having participants understand the key terms that all angels will encounter in legal agreements, and to know their rights and obligations as investors.
This course is brought to you by AngelCentral, as part of our Angel Education workshops. Our mission is to build a community of effective angel investors in Southeast Asia.
The event has passed. Find more upcoming event here or subscribe to our mailing list to receive the updates about the future events.
If you are an investor and would like to find out more about Angel Investing and what AngelCentral does, we have a coffee session hosted by the AngelCentral team. These informal chat sessions are held twice monthly where we will share about what we do, our membership offers, and/or what Angel Investing is all about. Secure your slots here.
If you are a startup and would like to raise funds from our members, send in your application here!