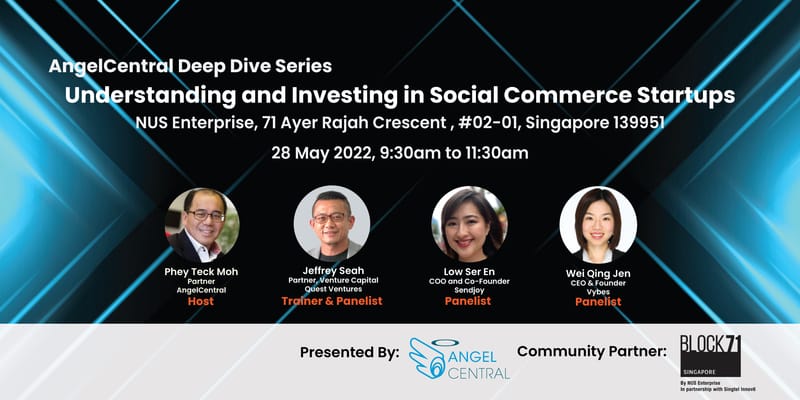 AngelCentral Deep Dive Series: Understanding and Investing in Social Commerce Startups
Social media platforms have morphed into staging areas for commerce, market research, and web3 moonshots, influencer marketing has now mutated into lead-generation and fulfillment funnels. Work-from-Homes (WFH) and lockdowns have re-written the definition of both "social" and "commerce", the increased e-commerce basket size point to the entry of larger-ticket high involvement products and differentiated commerce models.
In 2021, 90% of Instagram users followed one or more business accounts, and up to 44% of their users shop weekly through this platform using features like shopping tags and the Shop tab. The trend accelerated through the months of lockdown and self-isolation during the pandemic. A new future in e-commerce may have been rewritten.
During this workshop, Jeffrey Seah, Partner of Venture Capital, Quest Ventures, shared about his views of the MCM investment landscape and about the investment opportunities that come along with this new space. Our angels gained a deeper understanding about what exactly is social commerce, live commerce, conversational commerce, token commerce, community group buys and how they have changed the e-commerce space. The workshop concludes with a panel discussion led by experienced practitioners who gave our angels greater insight into investing in Social Commerce startups.
Panelists included:
Jeffrey Seah, Partner, Venture Capital, Quest Ventures

Low Ser En, COO & Co-Founder, Sendjoy

Jen Wei Qing, CEO & Founder, Vybes
About Jeffrey Seah, Partner, Venture Capital, Quest Ventures
Jeffrey Seah is a Partner at Quest Ventures, a leading venture fund for technology companies that have scalability and replicability in large internet communities.
Prior to this, Jeffrey co-founded a transformation advisory partnership with services in go-to-market, corporate venture capital, digital transformation and corporate reorganization strategy & implementation for Asia-based MNCs.
Before that, Jeffrey was CEO, Southeast Asia and Chair, Asia Digital Leadership Team of Starcom MediaVest Group (SMG) where he led it to become an established digital-driven business entity in Asia Pacific and beyond. Jeffrey's mandate had oversight over the operations of the Starcom and MediaVest agency brands across Southeast Asia, encompassing offices in Indonesia, Malaysia, the Philippines, Vietnam, Thailand, Myanmar and Singapore. He also oversaw the Asia security-challenged markets of Pakistan, Nepal, Sri Lanka and other Middle East markets.
Jeffrey serves as a board member at Assisi Hospice and Singapore Discovery Centre, and startups in the region.
Jeffrey has a BBA from the National University of Singapore. He owns a working Apple IIe from his youth, and is an acknowledged Arsenal and Shakespeare fan. He considers his greatest achievement to be a doting father to his three children.
About Low Ser En, COO & Co-Founder, Sendjoy
Ser En is a film producer and entrepreneur. She's the first Singaporean to win a BAFTA, for an animated short film "Poles Apart". In her 14 year career in the film industry, she has worked on movies, TV series, commercials, and Hollywood Visual Effects production. As a producer, her live-action and animated short films have been screened and won awards at over 100 international film festivals. She completed an MA in Producing at the National Film and Television School, and she was also conferred the Outstanding Young Alumni Award by Nanyang Technological University and was featured as Prestige's 40 under 40. Nimbus
Ser En is also the co-founder of Sendjoy (https://vulcanpost.com/709829/sendjoy-book-celebrity-video-messages-singapore/), a venture-funded marketplace platform that allows consumers to book creative video greetings from celebrities and content creators. At Sendjoy, Ser En and her co-founder worked with over 40 creators to launch Christmas and Valentine's Day NFT greeting cards, their first foray into the world of NFTs.
They are going back to their filmmaking roots to launch Mecenia (mecenia.xyz), a Web3 film studio and DAO, looking into the development and exportation of IP products like anime and video games, based on existing NFT IPs.
A passionate storyteller, she is concerned with social impact, building communities, and creating meaningful relationships through innovative ways, whether it's film, TV, or a tech product. She believes that the medium doesn't matter, the message does.
About Jen Wei Qing, CEO & Founder, Vybes
Wei Qing JEN is the founder and CEO of Vybes, the "Shopify for Influencers" that has been funded by top-tier venture capital funds such as Sequoia Surge and DSG Consumer Partners.
Prior to her life as a serial entrepreneur and angel investor, Wei Qing was an Associate Director at Temasek in Beijing and a management consultant with McKinsey in New York, where she led investments in and advised many of the world's largest technology, media, and consumer companies.
Wei Qing also believes in giving back to the community. She is the Vice President of the Stanford Club of Singapore and a committee member of the Singapore Chinese Chamber of Commerce and Industry Career Women's Group. Wei Qing is a graduate of Stanford and Harvard Universities.
The event has passed. Find more upcoming event here or subscribe to our mailing list to receive the updates about the future events.
If you are an investor and would like to find out more about Angel Investing and what AngelCentral does, we have a coffee session hosted by the AngelCentral team. These informal chat sessions are held twice monthly where we will share about what we do, our membership offers, and/or what Angel Investing is all about. Secure your slots here.
If you are a startup and would like to raise funds from our members, send in your application here!