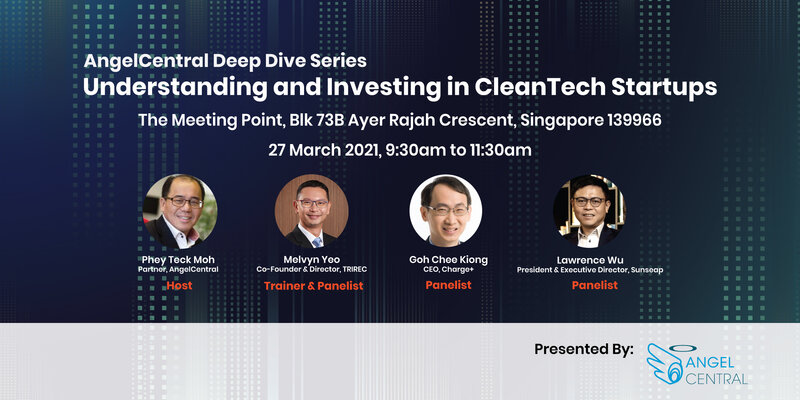 AngelCentral Deep Dive Series: Understanding and Investing in CleanTech Startups
Clean Technologies refer to any technology that reduces carbon emissions to make a positive impact on the global environment through the reduction of reliance on natural resources. At our current rate of consumption, finite natural resources such as Oil & Gas will be depleted in 30 to 40 years time. Against the backdrop of many countries having a net-zero carbon agenda by 2050, how can investors capitalise on this tailwind? With the decline in cost of producing and storing renewable energy, how can investors navigate the space known to require large capital investments?
At this workshop, Melvyn Yeo, Co-Founder and Director of TRIREC, aided our angels through the sharing of case studies to learn the intricacies of the CleanTech space, the exciting spaces for investment in CleanTech, the revenue models associated with CleanTech, the journey a typical CleanTech company takes, what a CleanTech startup requires and what angels should be aware of before investing in them. The workshop then ended with a panel discussion by experienced practitioners who provided angels a deeper insight into this space.
Panelists included:
Melvyn Yeo, Co-Founder and Director, TRIREC

Goh Chee Kiong, CEO, Charge+

Lawrence Wu, President & Executive Director, Sunseap Group
Trainer & Panelist: Melvyn Yeo, Co-Founder and Director, TRIREC
Melvyn is the Co-Founder of TRIREC which was incorporated in 2015 with a group of like-minded shareholders. The aim is to make a meaningful impact on addressing climate change through a disciplined investment approach by supporting companies and projects that share our belief in a sustainable future.
He was the Deputy Head of Wealth Management for Asia at Schroders where he was responsible for the management and strategic development of the business for the region since 2019. Melvyn also chaired the Asia Investment Committee where he leads the efforts in the formulation of investment philosophies and risk frameworks for the wealth management business. He sat on the boards of Schroders & Co (Asia) Limited and Schroders & Co (Hong Kong) Limited. Melvyn retired from Schroders recently.
Melvyn was the Co-Founder and Chair of the Investment Committee at Thirdrock Group, a leading Asian independent asset manager, between 2011 and 2019, before the firm was acquired by Schroders. He started his career with Goldman Sachs where he spent 3 years in Singapore managing multi-asset global discretionary portfolios, followed by 8 years in Hong Kong as a leading member of the equity derivatives team with experience across structuring, trading, and marketing.
He was a District Councillor from 2014-2020 under the Environment Functional Committee with the South West Community Development Council in Singapore. The committee initiates and executes community projects that bring awareness and engagement of environmental issues to the grassroots.
Panelist: Goh Chee Kiong, CEO, Charge+
Goh Chee Kiong is the CEO of Charge+, a leading electric vehicle charging solution provider for Singapore and the region, since 2020. As the green mobility arm of Sunseap Group, Charge+ is rapidly rolling out the EV charging infrastructure and solutions nationwide, so as to meet the company target of implementing 10,000 charging points in Singapore by 2030.
For the three years prior to Charge+, Chee Kiong served as the CEO for New Energies in SP Group, responsible for developing energy solutions businesses spanning renewables, energy storage, microgrids, energy efficiency, and electric mobility. SP Group (Singapore Power) is a leading energy utilities company in Asia-Pacific.
Chee Kiong's first career was with the Singapore Economic Development Board (EDB) where he served for two decades and led the development of the cleantech, urban solutions, and infrastructure sectors in Singapore. His last role in EDB was Executive Director. During his EDB career, he was responsible for conceptualising and implementing key national sustainability initiatives such as the SolarNova programme to aggregate governmental demand for solar energy, floating solar testbed, growth of water industry, and electric vehicle sharing programme. In 2014, Chee Kiong received the Public Administration Medal (Bronze) for his public service.
Chee Kiong has been a longstanding thought leader and advocate in the cleantech and sustainability sectors and is a regular contributor in conferences and the media. He currently sits on the board of the Energy Studies Institute (ESI).
Panelist: Lawrence Wu, President & Executive Director, Sunseap Group
The Co-Founder of Sunseap Group, Lawrence is an entrepreneur at heart with more than 20 years of experience in investment banking/corporate finance and currently holds directorships in several companies and start-ups dealing with clean energy, IoT/connectivity solutions, and venture capital. Prior to founding Sunseap Group, Lawrence held appointments at DBS Bank (Vice President), Macquarie (Vice President) and BNP Paribas (Director). Lawrence received the Entrepreneur of the Year Award (EYA), which honors local entrepreneurs who have shown outstanding performance as business owners in their respective industry fields.
As President of the Sunseap Group, Lawrence spearheads the group's efforts in capital raising. He played a vital role in raising the requisite funding for the group and helped put in place the capital structure required for its Solar Power Purchase Agreement (PPA) projects. These efforts helped set the foundation for the group's subsequent projects.
Lawrence is also a Co-founder of TRIREC Pte Ltd, an investment firm focusing on global opportunities in the areas of renewable energy, clean technology, and sustainability, as well as a Director in Skylab Holding, a start-up in the IoT, connectivity and cloud solutions, that optimizes the transmission of content, software and machine data for mission-critical applications. It also owns several patents and is recognized as one of the most promising companies in the SG:D Techblazer Awards in 2018.
Lawrence graduated from the Nanyang Technological University with First Class Honours in Accountancy in year 2000 and is both a Certified Public Accountant (Singapore) and Chartered Financial Analyst.
The event has passed. Find more upcoming event here or subscribe to our mailing list to receive the updates about the future events.
If you are an investor and would like to find out more about Angel Investing and what AngelCentral does, we have a coffee session hosted by the AngelCentral team. These informal chat sessions are held twice monthly where we will share about what we do, our membership offers, and/or what Angel Investing is all about. Secure your slots here.
If you are a startup and would like to raise funds from our members, send in your application here!