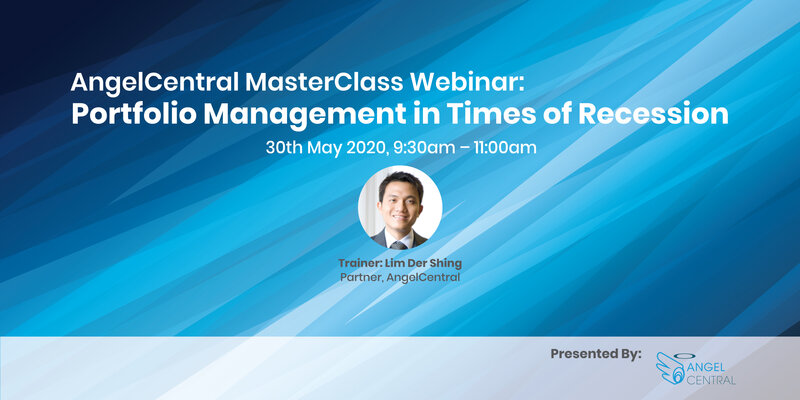 AngelCentral Masterclass Webinar: Portfolio Management in Times of Recession
During this online workshop, Mr. Lim Der Shing, Partner of AngelCentral, shared about his personal investment experiences to help our angels understand how to behave and manage the portfolio post investment effectively.
Content covered:
Managing your own expectation of your role with the startup
What's normal in terms of startup reporting and what to look out for
How to handle startup corporate actions
Create a strategy for follow on rounds
Portfolio tracking and returns calculation knowledge and math
About Lim Der Shing, Partner, AngelCentral
Der Shing is an active Regional Angel Investor having invested over S$5m in 30+ startups and VC funds. At the same time, Der Shing serves as a Venture Partner at Jungle Ventures and Partner at AngelCentral. In addition, as the Former CEO and founder of JobsCentral Group, Der Shing grew both the profit and revenue over a 14-year period from a 2-man startup into a leading regional job portal with over 150 staff in 3 countries. In 2011, the business was sold to CareerBuilder
His experience covers all the topics required to start, build, scale, and invest in a consumer internet business in South East Asia. He shares some of his insights at his blog. Since 2017, Der Shing has trained >140 angels around the region which has received numerous positive reviews
The event has passed. Find more upcoming event here or subscribe to our mailing list to receive the updates about the future events.
If you are an investor and would like to find out more about Angel Investing and what AngelCentral does, we have a coffee session hosted by the AngelCentral team. These informal chat sessions are held twice monthly where we will share about what we do, our membership offers, and/or what Angel Investing is all about. Secure your slots here.
If you are a startup and would like to raise funds from our members, send in your application here!