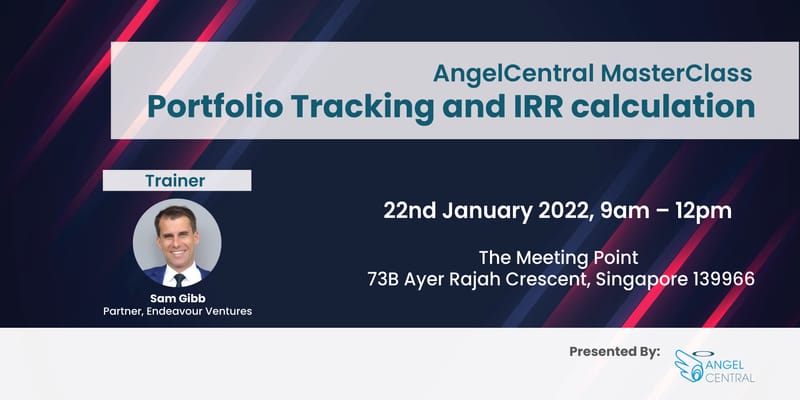 AngelCentral Masterclass Series: Portfolio Tracking and IRR Calculation
Have you ever tried to track how well your portfolio companies and their IRR are doing? It may seem very complicated and overwhelming at first glance but fret not!
At this masterclass, Mr. Sam Gibbs shared many case studies with our angels to help them achieve greater clarity and deeper understanding of how to calculate their returns, equipping our angels with the calculations that they need to properly track their portfolio and IRR.
Content covered:
Clarity on the key financial terms to track for an Angel Portfolio
Better insights on the recommended key items to track on your portfolio spreadsheet (financial and non-financial)
Calculations of your portfolio returns
About Sam Gibbs
Sam Gibbs is an experienced investor with over a decade's experience in public and private markets. He brings a personable yet institutional perspective to angel investing, with knowledge of the capital life-cycle. He has invested in and advised >30 early-stage companies in Southeast Asia. Sam holds a CFA Charter and studied Finance, Accounting, and Law in New Zealand before coming to Singapore. He has been praised for his "finesse with the models," so if you come along to the worksheet workshop, you are in for a real treat!
The event has passed. Find more upcoming event here or subscribe to our mailing list to receive the updates about the future events.
If you are an investor and would like to find out more about Angel Investing and what AngelCentral does, we have a coffee session hosted by the AngelCentral team. These informal chat sessions are held twice monthly where we will share about what we do, our membership offers, and/or what Angel Investing is all about. Secure your slots here.
If you are a startup and would like to raise funds from our members, send in your application here!