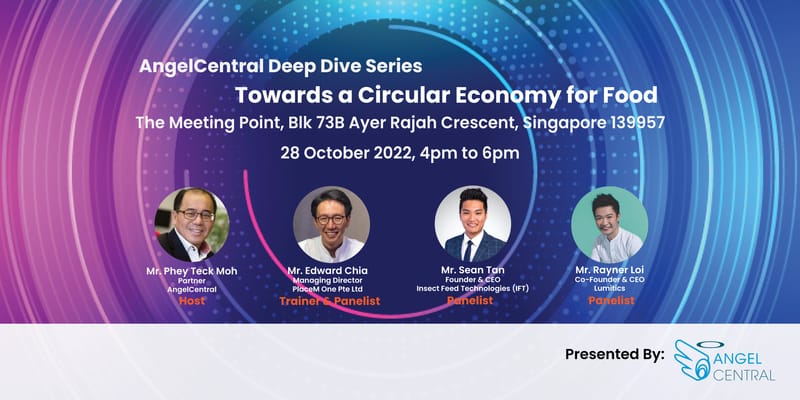 AngelCentral Deep Dive Series: Towards a Circular Economy for Food
According to the National Environment Agency (NEA), food waste has been one of the biggest waste streams in Singapore. In 2021 alone, 817,000 tonnes of food waste were generated. However, only less than 20 percent of which is recycled each year. More effort can be made by preventing food waste to meet Singapore's goal towards a zero-waste nation.
With the concept of a circular economy, Food Tech companies can build sustainable food systems to minimize waste and optimize product usage. Going forward, how can investors contribute to this common goal for our environment through investing in such companies and subsequently gaining from their outcomes?
During this workshop, Edward Chia Bing Hui, Managing Director of PlaceM One Pte Ltd, guided and helped our angels to learn about the Circular Food Economy in greater depth, including the journey a typical startup will have, the kind of assistance they require and what key factors our angels should be aware of before investing. The second half of the workshop consisted of exclusive case studies that were shared and discussed with our angels and a panel discussion led by experienced practitioners who gave our angels greater insight into this space.
Panelists included:
Edward Chia Bing Hui,

Managing Director, PlaceM One Pte Ltd

Rayner Loi, Co-Founder & CEO, Lumitics 

Sean Tan, Founder & CEO, Insect Feed Technologies (IFT)
About Edward Chia Bing Hui, Managing Director, PlaceM One Pte Ltd
As a youth, Edward pursued his passion for arts by founding the non-profit organisation Arts For Us All (AFUA) at the age of 18, engaging youths in arts-based community work and events. Edward continued to run AFUA during his National Service. 
At 21, Edward co-founded Timbre (then named the Ublues Group) while pursuing his undergraduate studies at the National University of Singapore (NUS). Two years later he became the Managing Director of the Group. He graduated with a Bachelor of the Arts in Economics and Political Science.  
Edward co-founded the Timbre Group with the social mission of developing the Singapore music scene through the talent cultivation of local musicians, and growing sustainable audiences for them. Today, the group has evolved into a holistic music lifestyle company with a diversified yet synergistic portfolio of businesses ranging from food and beverage, concert and festivals promotion and music education. With the opening of Timbre+ in 2016, and Yishun Park Hawker Centre in 2017, Edward currently heads and runs a portfolio of four live music restaurant-bars and dining concepts, two socially driven F&B concepts, an artist management agency and a music academy. In 2019, Edward founded placeM- an upstream to downstream place-making company that assists property owners to strategise and execute placemaking transformation. Since June 2021, Edward has fully divested his stake and role in the timbre group. Edward is now focusing on circular economy solutions particularly in the area of post consumer food waste.
In 2010 Edward, together with the Group's other Co-Founder Danny Loong, was conferred the Tourism Entrepreneur of the Year award under the Singapore Tourism Board's Singapore Experience Awards. In 2011, he was awarded Outstanding Young Alumni by NUS. He became a recipient of the Singapore Youth Award in 2014. In the same year, the Junior Chamber International (JCI) Singapore honoured Edward as one of the Ten Outstanding Young Persons of the World under the Business, Economic, and/or Entrepreneurial Accomplishment category. Edward also received the ASEAN Youth Award at the 21stst Youth Day Meeting in 2016.  
Edward is committed to community involvement and has served on committees and boards. He has been on boards of National Arts Council, National Museum of Singapore and Action Community for Entrepreneurship (ACE - a national movement by the public and private sector to nurture aspiring start-ups and entrepreneurs and was also a committee member of the Arts & Culture Strategic Review (ACSR) committee (People) reviewing strategies for attracting, developing, and retaining creative talent in Singapore and was on the main steering committee of the Committee for the Future Economy (CFE). He served as Co-Chair of the SG Youth Action Plan panel set up by the Ministry of Culture, Community and Youth and Co-chaired a National Environment Agency Workgroup that aims to sustain the hawker trade. Edward has also been serving with the grassroots at Boon Lay. He was also part of the Youth Mental Health Alliance.
About Rayner Loi, Co-Founder & CEO, Lumitics 
Rayner Loi is the Co-Founder and CEO of Lumitics, a Singapore AI food tech start-up on a mission to empower kitchens to be more sustainable by tackling their food waste.
Together with his co-founder, Rayner spearheaded the development of Lumitics' flagship product, Insight, an AI smart food waste tracker which uses artificial intelligence and machine learning to help Chefs track all food waste thrown away in their kitchens. The data collected acts as a feedback loop to help Chefs make better procurement and production decisions to minimise their food waste. He has also led Lumitics in partnering with some of the world's largest hotels chains and airlines which includes Accor Group, Hyatt Group, Four Seasons Group, Singapore Airlines and Cathay Pacific.
As one of the world's leading figures driving sustainability, Rayner has been recognised by TIME Magazine as one of their Next Generation Leaders for 2021 and was a recent honoree of FORBES 30 under 30 2022 list. 
About Sean Tan, Founder & CEO, Insect Feed Technologies (IFT)
Sean Tan is the Founder & CEO of Insect Feed Technologies (IFT), Singapore's leading insect technology company with a growing presence in Southeast Asia and the Middle-East.
Under his leadership, the company is currently building its first commercial facility in Singapore. Once operational, it would be Singapore's largest waste-to-insect production facility. The startup was invited to be part of the Singapore delegation in the upcoming 2022 United Nations Climate Change Conference, more commonly referred to as COP27, which will be held in November 2022 in Sharm El Sheikh, Egypt. IFT was conferred the Singapore President's Social Enterprise Startup of the Year Award and the National Environment Agency's Waste Valorisation Award in 2021.
Previously, he was in Enterprise Singapore. During his time there, he helped to grow the startup ecosystem and oversee Singapore's heartland enterprise development. He was also posted to Riyadh, Saudi Arabia, where he helped Singaporean companies expand in the Middle-East.
Sean is not new to the startup scene, having spent time working in high-growth startups such as Uber and Coffee Meets Bagel. He graduated from the Singapore Management University.
The event has passed. Find more upcoming event here or subscribe to our mailing list to receive the updates about the future events.
If you are an investor and would like to find out more about Angel Investing and what AngelCentral does, we have a coffee session hosted by the AngelCentral team. These informal chat sessions are held twice monthly where we will share about what we do, our membership offers, and/or what Angel Investing is all about. Secure your slots here.
If you are a startup and would like to raise funds from our members, send in your application here!