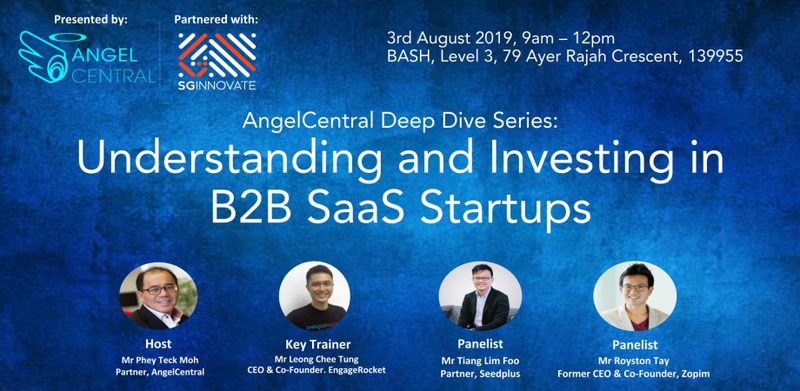 AngelCentral Deep Dive Series: Understanding and Investing in B2B SaaS Startups
Are you keen to understand and find out how to invest in startups in the B2B Saas space?
During the workshop, Mr Leong Chee Tung, CEO of EngageRocket, shared how best to invest in B2B SaaS startups. This aided our angels to better comprehend the many aspects of the B2B SaaS space and its bright prospective future, the journey a B2B SaaS company goes through, what the founder requires and what the angel investor should be looking out for when valuing companies in this space.
The 2nd part of the workshop showcased study discussions and a panel discussion with experienced practitioners to give angels deeper insights into the B2B SaaS space. 
Panelists include:
Leong Chee Tung, CEO & Co-Founder, EngageRocket

Tiang Lim Foo, Partner, Seedplus

Royston Tay, Former CEO & Co-Founder, Zopim

About Leong Chee Tung, CEO & Co-Founder, EngageRocket
CheeTung is committed to bring the same level of analytics, sophistication, and scientific rigour to managing people as is currently applied to managing finance and customers. He is the CEO of EngageRocket, an HR tech startup that helps to automate employee experience insights across the lifecycle of each employee.
Before becoming an entrepreneur, he was Regional Director of Gallup in Southeast Asia. He read Economics at the University of Cambridge, and has an MA in Political Science from Columbia University under the Singapore Armed Forces Overseas Scholarship (SAFOS).
EngageRocket has been named one of 20 Hottest Startups in 2018 by the Singapore Business Review, and has been featured in multiple outlets like Forbes, Bloomberg, Channel Newsasia, Tech In Asia, The Straits Times, The Business Times, NewsRadio 93.8, Money FM, Berita Harian, e27, DealStreet Asia, and others. 
About Tiang Lim Foo, Partner, Seedplus
Tiang started and launched Evernote's operations in Singapore spearheading market development and business growth in Southeast Asia, Australia and New Zealand.
Prior to launching Evernote, he served as VP of Product at MoVend, a Singtel Innov8 funded startup focused on mobile application development, content distribution and app monetization. Overseeing developer relations, feature planning and product marketing, Tiang identified key publishing and payment partners for the MoVend commerce platform's growth.
With a Bachelor's in Mechanical Engineering from National University of Singapore (NUS), he started his career as a medical device engineer designing and implementing manufacturing processes for lean production of cardiovascular stents and catheters in Second Source Medial, a medical device contract manufacturer in San Jose, California and brings this keen understanding of product development to your team.
About Royston Tay, Former CEO & Co-Founder, Zopim
Royston is an entrepreneur, angel investor and cheerleader for SEA's startup scene. He is co-founder, CEO of Zopim, a Singapore startup founded in 2007 that developed Live Chat software for businesses. Together with a strong founding team, they bootstrapped Zopim from zero to become the most widely-used Live Chat software with tens of thousands of paying customers globally. In 2014, Zopim was acquired by Zendesk which also went public on the NYSE in the same year. He stayed on as GM of Chat and subsequently GM of Message till 2017.
Today he is a full-time investor and nappy-changer, while actively searching for Act Two of his entrepreneurial journey. As an angel investor, he has made more than 20 investments, including funds such as 500 Durians, Entrepreneur First as well as startups like 99.co, ShopBack, MoneySmart, Patsnap and Grain.
The event has passed. Find more upcoming event here or subscribe to our mailing list to receive the updates about the future events.
If you are an investor and would like to find out more about Angel Investing and what AngelCentral does, we have a coffee session hosted by the AngelCentral team. These informal chat sessions are held twice monthly where we will share about what we do, our membership offers, and/or what Angel Investing is all about. Secure your slots here.
If you are a startup and would like to raise funds from our members, send in your application here!