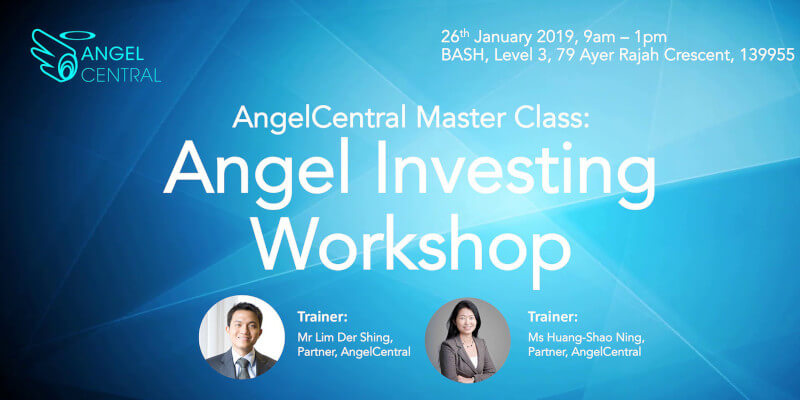 AngelCentral Master Class: Angel Investing Workshop
At the 4-hour workshop, our trainers, Mr. Lim Der Shing and Ms Huang Shao Ning, Partners and Co-Founders of AngelCentral, shared their strategies and approach to investing in startups. Throughout the session, they shared observations, stories and learning points from personal experience over the past years.
Post workshop feedback:
"Insightful thoughts from Der Shing and practical advice from the practitioner's point of view. " - Jeyson Ng, Assistant Director, Phillip Securities
"An eye-opening, intensive, fast-paced course for the eager angel investor. Exceeded my expectations. I appreciate Der Shing's frank sharing too." - Michael Lin, Managing Director, Auston Institute of Management
"Very good course to get the basics in place." - Abhay Kumar, Regional Vice President
"Practical course. I appreciate Der Shing's candid views about the lessons and mistakes he made along the way. This is also a great way to network. " - James Ang, Senior Director, Cloud Computing
--
Topics covered in the workshop:
1. Manage and construct your portfolio for angel investments. Learn how startups fit into your overall portfolio, allocate your assets to ensure minimum risk with maximum rewards, and set your personal goals for angel investing.
2. Gain insights into the lifecycle of a startup, the overall tech startup ecosystem and how angels fit into the space. You will learn about the different stakeholders in a startup ecosystem, the full lifecycle of a startup, and the possible types of investments before exit.
3. Generate deal flow. You will learn about the different ways angels can be exposed to startup investment opportunities, including how to position yourself as a credible and useful investor, establish credibility and branding via consistent value-add, building expertise, and engaging with fellow investors to expand your network.
4. Evaluate and conduct due diligence on startups. Understand Der Shing's personal framework for evaluating startups which resulted from years of personal experience and countless refinements over the years. This includes questions to ask when assessing a startup's solution, founding team, marketing opportunity, and business model.
5. Manage expectations and add value post-investment. You will gain a greater clarity on what it is like after making your first investment, the different ways angels can contribute to startups, how to manage and communicate with founders during the post-investment phase, etc.
----------
About the Trainers:
Der Shing is an active Regional Angel Investor in close to 30 startups with over S$5M worth of funding in total. At the same time, Der Shing serves as a Venture Partner at Jungle Ventures and Partner at AngelCentral. In addition, as the Former CEO and founder of JobsCentral Group, Der Shing grew both the profit and revenue over a 14-year period from a 2-man startup into a leading regional job portal with over 150 staff in 3 countries. In 2011, the business was sold to CareerBuilder.
His experience covers all the topics required to start, build, scale and invest in a consumer internet business in South East Asia. He shares some of his insights at his blog. Since 2017, Der Shing has trained >140 angels around the region which has received numerous positive reviews
Shao-Ning is the Chief Angel and co-Founder of AngelCentral (www.angelcentral.co). AngelCentral started as a community in Feb 2017 to facilitate angel investments in Singapore. The community grew rapidly to almost 280 strong within ten months, and helped raised 2+M for 14 start-ups. Seeing the enthusiasm and support from the community, Shao-Ning together with Teck Moh and Der Shing, decided to incorporate and provide deeper angel training and investment support, with the key mandate to bridge good angels with good startups in Southeast Asia.
For the past few years, Shao-Ning focuses on three aspects in her life, being an angel investor, startup advisor and most importantly as a wife and mother to four boys ages between 3 and 16.
Shao-Ning meets with around 5-7 startups weekly as a possible investor and also shares her experiences with some of them. The startups are mainly technology startups, with verticals ranging from Medical to HR to Education to Food Tech. Whenever she can, she tries her best to support entrepreneurship causes, especially for women executives / founders.
Previously, Shao-Ning was the Managing Director/ Group Deputy CEO of JobsCentral Group (now CareerBuilder Singapore) She started the company as a fresh graduate in 2000, grew it from a two-man team to 150-pax regional business, and sold it in 2011 to the US market leader, CareerBuilder. She left the company in 2014. In 2015 she started a web-based video platform to promote women's confidence but sadly had to shut it down due to partner incompatibility. Her life focus is to be relevant and pay it forward, helping wherever she can.
The event has passed. Find more upcoming event here or subscribe to our mailing list to receive the updates about the future events.
If you are an investor and would like to find out more about Angel Investing and what AngelCentral does, we have a coffee session hosted by the AngelCentral team. These informal chat sessions are held twice monthly where we will share about what we do, our membership offers, and/or what Angel Investing is all about. Secure your slots here.
If you are a startup and would like to raise funds from our members, send in your application here!