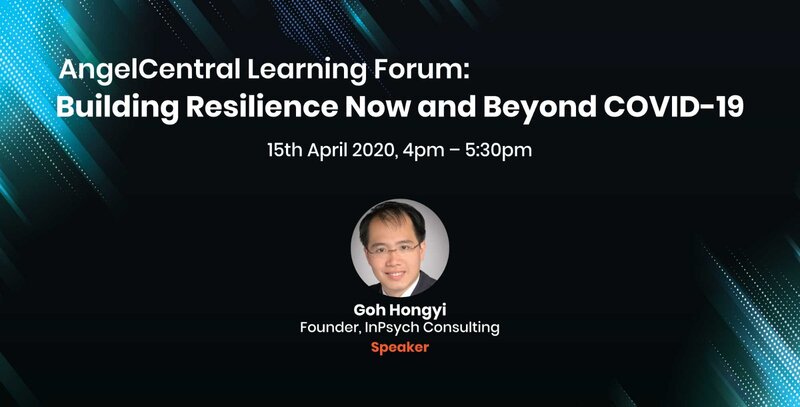 AngelCentral Learning Forum: Building Resilience Now and Beyond COVID-19
In this Webinar, we brought the attention to YOU - how are you coping? How are you dealing with the many levels of stress? 
During the webinar, Mr. Goh Hong Yi, who is a practising Occupational Psychologist, shared with participants about stress, thinking traps and how to build resilience through optimism to help them more easily recognise and manage these issues.
About Mr Goh Hong Yi
Hong Yi has over 20 years' of extensive experience in specialty HR across both the Public Service and MNCs, both in Singapore & across Asia. He was also involved in providing services on a wide range of Organisational Development initiatives ranging from Competency Profiling to Training & Development programs to all levels of staff as part of the change management frameworks across a wide span of industries. Concurrently, he has over 10 years of academic experience as an Adjunct Tutor teaching Industrial and Organisational Psychology.
Hong Yi is a trusted advisor to executives who need to know how they are perceived and want to focus on what is most important in their professional and personal lives. Hong Yi has provided developmental feedback and coached over 300 senior leaders including high potentials across multiple industries. Besides helping them to achieve work life balance, Hong Yi also ensures that their personal objectives are aligned to the business objectives so that they are engaged and effective in their work.
At the organisational level, Hong Yi's specialty is in cultural transformation, effectively linking people processes to business outcomes. Possessing in-depth knowledge and expertise in the various people processes of Recruitment, Talent Management and Performance Management, Hong Yi provides new insights in ensuring alignment to drive a high performance culture. 
The event has passed. Find more upcoming event here or subscribe to our mailing list to receive the updates about the future events.
If you are an investor and would like to find out more about Angel Investing and what AngelCentral does, we have a coffee session hosted by the AngelCentral team. These informal chat sessions are held twice monthly where we will share about what we do, our membership offers, and/or what Angel Investing is all about. Secure your slots here.
If you are a startup and would like to raise funds from our members, send in your application here!