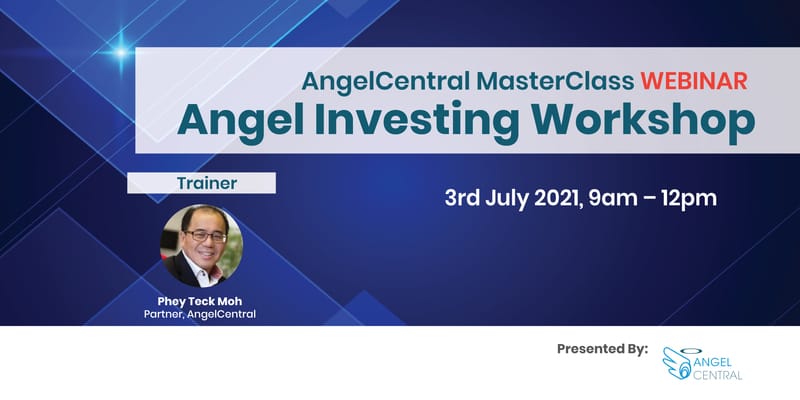 AngelCentral Masterclass Series Webinar: Angel Investing Workshop
This online masterclass touched on how an experienced angel investor thinks and how participants could go about becoming an effective and competent angel investor. It helped participants discover what it really takes to invest in a startup, removing the need for trial and error, represented by the usual painfully expensive first investment. The workshop was conducted by Phey Teck Moh, Partner of AngelCentral, who used live case studies gathered from personal experience to give participants a better sense of the strategies involved in angel investing.
Content covered:
How to manage and construct your portfolio for angel investments. How startups fit into your overall portfolio, allocate your assets to ensure minimum risk with maximum rewards, and set your personal goals for angel investing.
Insights into the lifecycle of a startup, the overall tech startup ecosystem and how angels fit into the space. What are the different stakeholders in a startup ecosystem, the full lifecycle of a startup, and the possible types of investments before exit.
Generate deal flow. What are the different ways angels can be exposed to startup investment opportunities, including how to position yourself as a credible and useful investor, establish credibility and branding via consistent value-add, building expertise, and engaging with fellow investors to expand your network.
Evaluate startups you meet. Understand the partners' personal framework for evaluating startups which resulted from years of personal experience and countless refinements over the years. This includes questions to ask when assessing a startup's solution, founding team, marketing opportunity, and business model.
Testimonials from participants
"Interesting concepts with clear explanations" - Petrina Leong, Senior Director, Jardine Lloyd Thompson PCS Pte. Ltd.
"Good use of discussion of case studies for exchange of ideas. The masterclass was helpful as a platform for the founders of AngelCentral to share their thought process behind their investment decisions in a candid way." - Elvira Tan, Venture Partner, Octava Impact Investment Pte Ltd
"Very good course to get the basics in place." - Abhay Kumar, Regional Vice President
About Phey Teck Moh, Partner, AngelCentral
Phey Teck Moh is a mentor and angel investor in the Singapore entrepreneur ecosystem. He co-founded AngelCentral, to build a community of angel investors; offering education workshops and curate startups for angel investments. At Entrepreneur First, Teck Moh is a mentor to extraordinary people to build amazing startups from scratch. Xpanasia is an advisory company specializing in Telecommunications and Information Technology companies in Asia Pacific.
He had retired as Asia President, Motorola Solutions in May 2013. During his tenure, Motorola Solutions Asia Pacific grew to more than US$1B. Prior to Motorola, Phey was the President & Chief Executive Officer of Pacific Internet, a NASDAQ- listed Internet service provider in Asia Pacific. He started his career at IBM and moved to Compaq.
The event has passed. Find more upcoming event here or subscribe to our mailing list to receive the updates about the future events.
If you are an investor and would like to find out more about Angel Investing and what AngelCentral does, we have a coffee session hosted by the AngelCentral team. These informal chat sessions are held twice monthly where we will share about what we do, our membership offers, and/or what Angel Investing is all about. Secure your slots here.
If you are a startup and would like to raise funds from our members, send in your application here!