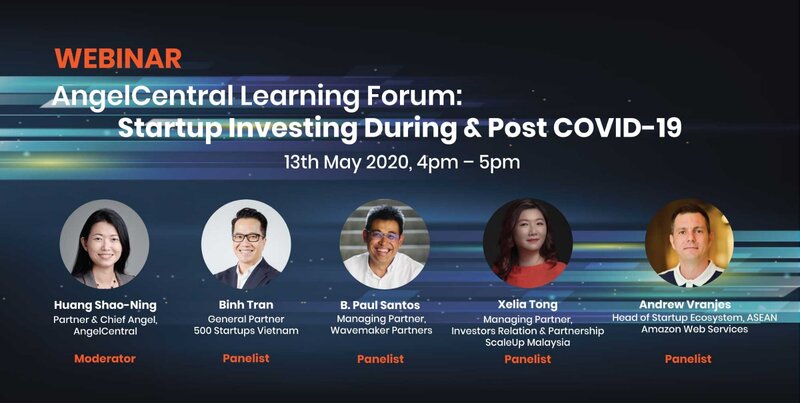 AngelCentral Learning Forum: Startup Investing During and Post COVID-19
In the past few years, venture capital and private equity investments within Southeast Asia rose to record levels as SEA-based startups scaled new heights year after year. In 2019, it was reported that South-East Asia's (SEA) internet economy is worth US$100 billion, and will triple to US$300 billion by 2025.
But then COVID-19 struck, disrupting lives and changing many economic assumptions. Many governments mandated strict containment measures since the first quarter of 2020, and these measures have very direct and immediate drastic consequences to businesses across the globe. Sequoia sent a rare "warning" to their portfolio companies and Softbank has also emphasized cash flow and breakeven to their biggest portfolio startups. We witnessed the travel, hospitality industry and some of its adjacent industries grind to a halt. Yet, at the same time, the S&P500 seems to tell a V-shape recovery story funded by cheap central bank liquidity. 
During this webinar, a panel of distinguished investors shared their take on the COVID and post COVID startup investment scene regionally. Specifically, they gave their collective take on what is expected to happen for major ASEAN economies and verticals where their portfolio companies operate. They also discussed about whether there is a revaluation happening across the various stages of startups and presented their prognosis for the overall ecosystem focusing on founders, talent, markets, and exits.
The event has passed. Find more upcoming event here or subscribe to our mailing list to receive the updates about the future events.
If you are an investor and would like to find out more about Angel Investing and what AngelCentral does, we have a coffee session hosted by the AngelCentral team. These informal chat sessions are held twice monthly where we will share about what we do, our membership offers, and/or what Angel Investing is all about. Secure your slots here.
If you are a startup and would like to raise funds from our members, send in your application here!