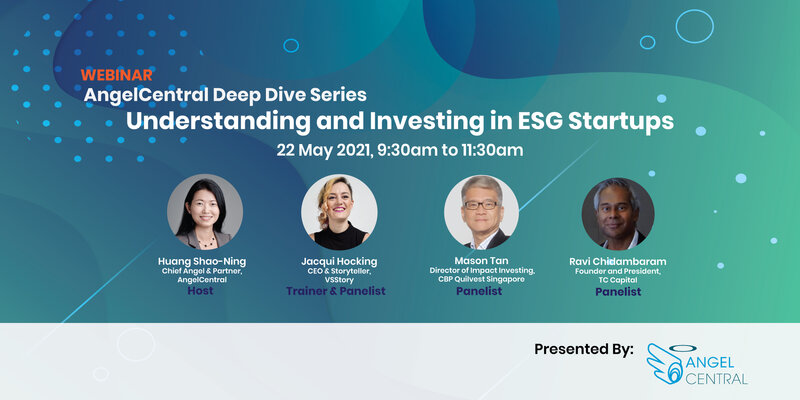 AngelCentral Deep Dive Series: Understanding and Investing in ESG Startups
Environmental, Social and Corporate Governance (ESG) Investing refers to using ESG related metrics alongside financial metrics to access and compare investment opportunities to achieve long-term positive impact and returns in the society. It covers a broad range of investment themes, which includes Impact, Climate Change, Circular Economy etc. In recent years, AUM in ESG has surpassed $30 Trillion, reflecting increasing interest from global investors and business leaders in making ESG-focused investment decisions.
During the workshop, Jacqui Hocking, CEO & Storyteller of VSStory, shared about many exclusive case studies to assist our angels to understand and learn more about the ESG space, how a typical ESG company grows, what a ESG startup requires and the key metrics our angels should take note of before investing. The workshop then concluded with a panel discussion involving experienced practitioners who gave our angels deeper insight into the ESG space.
Panelists included:
Jacqui Hocking, CEO & Storyteller, VSStory

Mason Tan, Director of Impact Investing, CBP Quilvest Singapore

Ravi Chidambaram, Founder and President, TC Capital

About Jacqui Hocking, CEO & Storyteller, VSStory
After starting her first storytelling company as a teenager, and then sailing around the world with a UN Global Climate Expedition as a documentary filmmaker; Jacqui came to realise that the best ESG solutions exist already, but these visionaries needed more visibility. Hence, she moved to Singapore to become a serial systems entrepreneur — building B Corp certified companies that work with multinational clients & visionary social enterprises around the world on their Strategy & Storytelling.
Now a Forbes 30 under 30 and 2 time TEDx speaker, she hopes to be remembered for being at the forefront of leading businesses to become the solution for the world's problems and not the cause.
Her goal is to build a new industry of "ESG turnaround strategists"; to help shareholders steer clear from both moral & financial bankruptcy.
About Mason Tan, Director of Impact Investing, CBP Quilvest Singapore
Mason is the Director of Impact Investing at CBP Quilvest Wealth Advisory Pte Ltd, leading their Sustainable Impact Investing Practice. He is also co-founder and former CEO of Garden Impact Investments Pte Ltd (established in 2013), an investment holding company that provided expansion capital to impact-driven businesses in Southeast Asia. Mason invested and managed a portfolio of companies that focus on increasing livelihoods and providing access to life necessities for low-income communities and those living in disadvantaged circumstances.
A Certified Public Accountant by training, Mason had worked as a tax accountant in a Big 4 public accounting firm in the US, CEO of securities and money broking firms in Indonesia, Corporate Finance Manager cum Investor Relations for a Singapore-based NYSE listed, CFO of an internet venture funded by VCs and an Indonesian fiber manufacturing plant. From 2004 to 2010, he became an owner cum operator of a US F&B master franchise for Singapore, Malaysia, and China.
Mason currently serves as the Vice-Chairman of Transformational Business Network Asia (TBN Asia), a non-profit association headquartered in Singapore that promotes fighting poverty through business enterprise solutions focusing in Southeast Asia.
Mason is currently in the steering committee for ShelterTech Accelerator Southeast Asia under Habitat for Humanity and speaks at various impact investing conferences.
Mason graduated with a Master of Accounting and Bachelor of Science in Accounting from the University of Southern California. Mason qualified as a State of Georgia Certified of Public Accountant (CPA) in 1991.
About Ravi Chidambaram, Founder and President, TC Capital
Ravi Chidambaram is Founder and President of TC Capital, a pan-Asian boutique investment bank based in Singapore which specializes in M&A advisory and capital market transactions for mid-cap and large cap companies in Asia. It is recognized and awarded as one of the best independent investment banks in Asia. He is also Executive Director and Co-founder of RIMM, a sustainability diagnostics and solutions company and Adjunct Professor in Sustainability at Yale-NUS College.
Ravi completed a BA (summa cum laude) in Political Science from Duke University and an MBA/MA from the Wharton School and the University of Pennsylvania. He was also a Fulbright Scholar in Political Economy at the University of Kiel in Germany. He is based in Singapore. AngelCentral Deep Dive Series: Understanding and Investing in ESG Startups
The event has passed. Find more upcoming event here or subscribe to our mailing list to receive the updates about the future events.
If you are an investor and would like to find out more about Angel Investing and what AngelCentral does, we have a coffee session hosted by the AngelCentral team. These informal chat sessions are held twice monthly where we will share about what we do, our membership offers, and/or what Angel Investing is all about. Secure your slots here.
If you are a startup and would like to raise funds from our members, send in your application here!